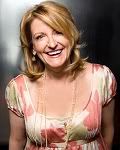 Born up the road in Kingston and on to Alabama at 12, Claire returns home for a stop on the never ending road of success!
By any measure, the Claire Lynch Band is high on the bluegrass world's A-List, with musicians whose accolades include International Bluegrass Music Association (IBMA) Female Vocalist of the Year and two Grammy nominations for Best Bluegrass Album (Claire); two IBMA Guitar Player of the Year awards (Jim Hurst); and two IBMA Bass Player of the Year awards (Mark Schatz).
Claire's musical direction dates back to the days of the Front Porch String Band, resulting in a seasoned sound that is simultaneously unpretentious and richly textured. It's a down-home, front porch sensibility – until you realize that it's a rare front porch, indeed, that has ever hosted musicians of this caliber. Jim Hurst throws out impossible leads effortlessly, and the band is grounded by bassist Mark Schatz's deft touch and masterful instinct for groove. Toronto native Jason Thomas brings monster chops on fiddle and mandolin, supported by remarkable musical versatility and imagination that have made him instantly at home in one of the greatest bluegrass bands currently on the scene.
Dolly Parton credits Claire with "one of the sweetest, purest and best lead voices in the music business today." Claire's harmonies have graced the recordings of many stellar musicians, from Ralph Stanley to Linda Ronstadt. Equally gifted as a songwriter, her songs have been recorded by The Seldom Scene, Patty Loveless, Kathy Mattea, Cherryholmes, The Whites and others.
Opening the show: Breakneck Annie – Performing Americana, Folk/Traditional music. Good Time Music – not quite bluegrass, not quite old time, not quite folk. Rarely serious and always fun.
Web Site:
www.clairelynch.com
Doors open at 6:30 pm / dinner served 6:30 pm – 10:00 pm
Tickets: Advance $25.00 / Day of Show $28.00 Order online or
call 845-469-4595 for reservations.
Bodles at myspace: www.myspace.com/bodlesmusic