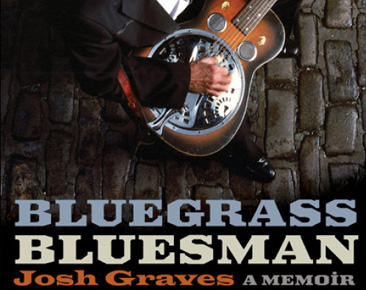 Thursday, September 27 is the 85th anniversary of Josh Graves's birth in Tellico Plains, Monroe County, TN. To mark the occasion the University of Illinois Press is hosting a birthday party, launching their new book about Graves – Bluegrass Bluesman: A Memoir, edited by Fred Bartenstein – and hold a book signing session at their booth (#223) in the Exhibit Hall at the IBMA's World of Bluegrass convention in Nashville.
Bartenstein will cut the birthday cake at 1:00 p.m., and then sign copies of the book, which will be on sale at the special on-site price of $13.25.
A pivotal member of the hugely successful bluegrass band Flatt and Scruggs and the Foggy Mountain Boys, Dobro pioneer Josh Graves (1927–2006) was a living link between bluegrass music and the blues. In Bluegrass Bluesman, this influential performer shares the story of his lifelong career in music.
Graves relates stories of daily life on tour throughout the 1950s and 1960s, reveals details of the band's dedication to musical excellence, Scruggs's leadership and an often gruelling life on the road.
It is expected that members of Josh Graves's family will attend the party.
At the same event the University of Illinois Press will celebrate the 40th anniversary of its Music in American Life series.
In 1972 the University of Illinois Press launched Music in American Life with Archie Green's book Only a Miner:  Studies in Recorded Coal-Mining Songs, and since then has published more than 160 books in the series.
The series encompasses the broadest range of music, from classical through all forms of American vernacular music, and embraces a variety of approaches to the topic of music in American life, including monographs, biographies, memoirs, reference books, readers and edited collections.
According to current series editor Laurie Matheson,
"Music in American Life embodies the twin goals of documenting the place of music in American history and the cultural life that gives rise to particular musical forms."
Recently published titles include Stephen Wade's The Beautiful Music All Around Us:  Field Recordings and the American Experience, the award winning Crowe on the Banjo: The Music Life of JD Crowe, and Woody Guthrie, American Radical, a timely look at the politics of America's dustbowl troubadour.
Bluegrass Bluesman: A Memoir by Josh Graves
Paperback, ISBN:  978-0-252-07864-4