16th Annual East Troy, WI Bluegrass Festival
Sept 12-13, 2009
After wanting to attend this festival for the last three years, I was finally able to go. What a weekend it was. Everything was in place: the weather, the crowd, the music and the musicians. Plus being able to hand out WAMU cards and stickers let me start more conversations than I normally would have.
It was a Norman Rockwell setting or as close to one as you could find for a September day in Wisconsin. East Troy still has the old school charm about it with the town square right smack in the center of the town. Bring your lawn chairs and kick back for a whole weekend of music, food and family fun with free admission.
The day started with a fiddle contest and then lead to the first band Cream City Bluegrass followed by Sparetime Bluegrass. The next event was the band scramble that I threw my name in for the first time. I made some new friends and got to perform in front about 500 or more people. I figured I could slide by and just play rhythm while somebody else sang. Didn't happen, no one else wanted to sing so up I went and had a greattime doing it. Right after the band scramble was the WAMI award wining bluegrass band from Milwaukee called the Liberty Bluegrass Band. By the end of their set, their table was almost cleared of every CD they had brought with to sell. Their new album called "Going Burlap" sold out fast. One of the songs that the crowd really loved was called "Black Lung". It was transposed from a poem by Hazel Dickens. With the way things are going for them, I expect to see them starting a tour very soon.
Next up was the headliner, Charlie Sizemore. If this could have been filmed in black and white it would have looked like one of the old time caravans as their tour bus pulled up to the town square. They dressed, prepped, and tuned on the sidewalk next to the bus and then walked the 40 yards right to the stage. And what a great show they put on. My favorite was the song "Silver Bugle". To hear that done live adds such a ghostly affect it captivated the audience. To close their show they did their big hit "I want to be in Alison's Band" This finished out a great Saturday.
One thing I should also mention is the constant jam sessions that go on in the opposite side of the park. When the bands are changing on stage you can always stroll through the square and listen to quality music all day long.
Sunday started out with a blessed gospel service by the Burie family. The crowd looked like it never left from Saturday with the amount of people there so early on a Sunday morning. The Buries have the whole package going for them: an 11 year old mandolin player that can be seen in an earlier piucture playing a dog house bass three times his size. Two very talented daughters that along with their mother have great three part harmony, a bass player and a talented banjo/dobro player that are all under 16 years old.
Up next was the banjo, mandolin, and guitar contests. This was the first time I ever was able to sit and enjoy one of these up close. And what a treat it was. I will cut right to the star of this contest that I found out lives just up the road from my home town. Her name is Macyn Taylor who is just fifteen years old. She stunned the crowd with her skills on the guitar and by all rights, took the guitar competition hands down. Not to take anything away from any of the other people who competed against her, but to say this girl has got mad skills is an under statement! Remember her name, Macyn Taylor.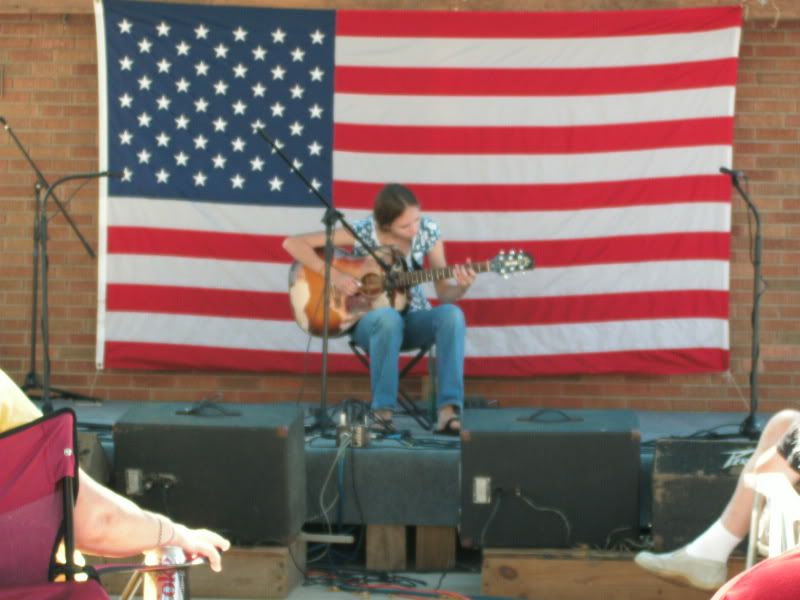 Macyn Taylor
The band line up for the rest of the day was as follows: On Eagles Wings, Roller Mills, Front Porch Boys, and New Pioneers. Who all played to a max crowd that was starting to fill up the street that was closed just to accommodate the over flow crowd. The headliner on Sunday was GrassTowne. But being called away, I was not able to make the last show. As I was leaving, the sidewalk flow was going the other way to the stage area for Grasstowne. I was even questioned by several people as to why I was leaving? What could I do, it was time to go.
In closing this was a great family friendly time that one should plan trip to Wisconsin for. Weather is the only factor that could throw a wrench in the whole thing. But they do have a back up plan to move to an indoor venue if need be. The show must go on!
By Sunday afternoon I felt like he looked.
Thank you
Jim Bergles
WAMU Street team