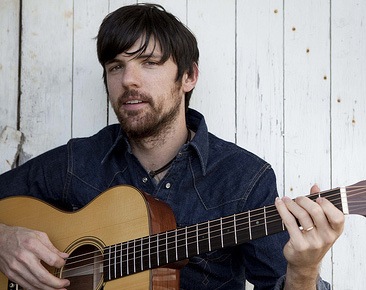 Several weeks ago, I had the opportunity to see The Avett Brothers perform at the Fraze Pavilion in Kettering, OH. (I can already see the rigid traditionalists rolling their eyes.)
I was thoroughly surprised to see the Avetts perform several tribute tunes to their hero, Doc Watson, who had passed away just one week earlier.
Here's a look at that night's performance of Shady Grove, a folk classic long associated with Doc.
A big Doc fan myself, everyone around me soon realized how excited I was to see one of the hottest musical acts in the country performing six or seven tunes dedicated to one of the greatest visionaries in bluegrass and acoustic music.
After the show – and weeks of scheduling and rescheduling – I was able to speak with Seth Avett. We talked at length about his love for Doc Watson, The Avett Brothers' upcoming album, The Carpenter, and the brothers' music in general.
Due to the length of the interview, I've only provided a partial transcript below. The interview in its entirety can be heard this weekend on Bending The Strings.
DM: Could you tell us what Doc songs you regularly perform at your live shows?
SA: Sure. Well, there's been a couple of standards, I guess. And some of his songs, it can be arguable, for some people, whether they're "his songs" or not, but for us, if we heard them from him, they're his songs.
A lot of traditional songs… We learned Will The Circle Be Unbroken from Doc. For many years we've covered a song called Wanted Man that we learned from Doc, and a song called Down In The Valley, which is a gospel number we learned from Doc. Outside of that, more recently, there's a song called Alberta that we've covered that we learned from Doc. A song you might call a jazz standard, called Stormy Weather, we learned from Doc. I know there's a few more. We made a huge list before our last run. But those are all some pretty hard-hitting standards that we learned from Doc.
DM: When do you first remember hearing Doc Watson's music?
SA: I guess when I consciously remember it I would have been 12? Somewhere around 12 or 13. My parents had a record player in the living room and they had Memories. The album, Memories. And I think I probably knew the music since before I can remember, but when I became consciously aware of who Doc was, and the voice matched with that picture of him on the front of Memories and connecting the two and knowing what Doc sounded like, was probably around 12 or so.
DM:  Specifically, what about Doc's music is so appealing to you?
SA: I think there's an air of wisdom that is equally matched with humility. He wasn't primarily a writer. He was primarily, I would say, an interpreter. Sort of a pathway of tradition, of much more than music, but of lifestyle and a simple kind of wisdom.
I think his music, I always loved it for the fact that it was very relatable as a little kid, or relatable as a grown man. Relatable for families… sort of all inclusive. You don't have to be a North Carolinian or a Southerner or even an American to hear it and appreciate it.
And the variety. There's such variety. I like the idea of being able to write songs that can be incredibly sad, dealing with death, dealing with all kinds of dark things, egos, whatever, and being able to talk about sad things, dark things, heavy things. And then in the next song be able to talk about, in Doc's case, maybe a drunk mouse, or sort of a funny situation, just in life or in relationships. So the variety and the wisdom, and how he could be somber and at the same time he could be really funny. I could probably go on for a long time about that, but all those are aspects of it that made me very drawn to it.
DM: I totally understand what you're saying. There's something so honest and real about Doc's music that it just transcends barriers across all walks of life. Everyone can enjoy a Doc Watson tune.
SA: No question about it. And immediately. It's just something where, 'MAN, that sounds good!' Right off.
DM: Now, much like Doc, The Avett Brothers' music is a hybrid of styles and transcends genre labels. How would you best describe the music of The Avett Brothers?
SA: Well, that's the $64,000 question, Daniel. We've been asked that for many years, and oddly, we are still no closer to a suitable answer. It's interesting. Being on the inside of it, it's hard to tell. We hear form other people that it's a mixture of punk music and bluegrass music, or grunge or pop, or whatever. For us, we know that it's something at least a little bit different because it's us doing it. We strive more for a honest representation of who we are musically, and I feel like if anyone does that, there's bound to be a slightly different genre there.
I always cite examples like Paul Simon. He hit the scene and it was like: What's this guy? Is he folk music? Well, if he's folk music, then what is Woody Guthrie? Well, they're not the same. Are they both folk music? Well, Woody Guthrie- was he folk music or was that country? Well, if he's country, then is Hank Williams country? Well, Hank Williams is the ultimate country. So, if he's country, is Tom T. Hall country? Well, yeah, he's country, but he's more of a storyteller. Well, if he's a storyteller…
And you can just go on and on and on. Was [Led] Zeppelin a metal band? No. Were they just a blues band? No. They were Led Zeppelin.
There's really no way to describe the genre. Not to compare us to any of those legendary artists, but to say that it's just, like a lot of music, it's very much a stew, very much a conglomeration, a mixture of a lot of things, because we love so much music. And I think the new record's gonna push that even further. There's one song that is clearly about the furthest you could get from folk music or from country music, and then the next song could very easily find itself in a more of a country genre.
I know this is a long answer, Daniel, but basically the answer is, I don't know. (laughs) I don't know, and I find that others describe it better than I do. And I hope they like it. That's all I got on that.