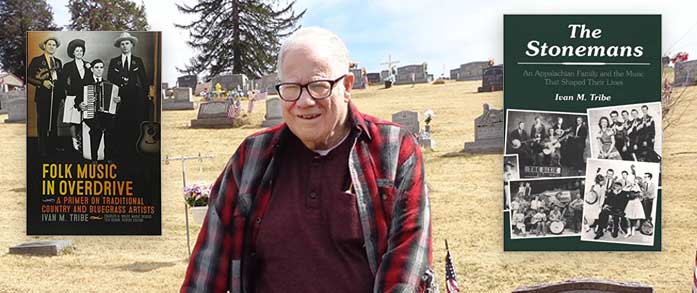 Ivan Tribe, Professor Emeritus of History at the University of Rio Grande, scholar of Appalachian culture, and a renowned expert on traditional country and bluegrass music, passed away on Tuesday April 4, 2023, after a recent spell in hospital. He was 82 years old. 
Born on May 1, 1940, in Athens, Ohio, Ivan M. Tribe graduated in Albany High School's class of 1958. He earned bachelor's and master's degrees from Ohio University, and taught history in high schools in Vinton and Meigs Counties for six years. 
He returned to graduate school and earned the PhD in American History from the University of Toledo in 1976, whereupon Tribe joined the faculty of the University of Rio Grande. He retired with Emeritus status in 2007, although he continued to teach an occasional course.
His research, writings, and presentations have embraced the history of communities and coal mining in south-eastern Ohio, as well as traditional country and bluegrass music.
Tribe was the author of more than 40 books, and record reviews appearing in such publications as The Journal of American Folklore and The Journal of Country Music, and he has written liner notes for more than 80 record albums. 
Also, he wrote more than 200 articles for such journals as The Journal of Appalachian Studies, Mid-America Folklore, Goldenseal: West Virginia Traditional Life and the Tennessee Folklore Society Bulletin.
Tribe's most comprehensive work, Folk Music In Overdrive: A Primer on Traditional Country and Bluegrass Artists (University of Tennessee Press, 2018), is a compilation of Tribe's more significant published articles, revised and updated from original biographies published in Bluegrass Unlimited, Precious Memories: Journal of Gospel Music, Old Time Music, and the afore-mentioned Goldenseal: West Virginia Traditional Life. 
It includes profiles about leaders, solo singers and composers ..
Hylo Brown, Roy Hall, J.D. Jarvis, Mac Martin and the Dixie Travelers, Charlie Monroe, Clyde Moody, Lee Moore, Mac Odell, Jimmie Skinner, Buddy Starcher, Carl Story, Lilli Mae Whitaker
Sidemen ….
Billy Baker, Claude Boone, Buddy M. Griffin, George (Speedy) Krise, Curley Lambert, Joe Meadows, Red Rector, Clarence (Tater) Tate, Chubby Wise
Husband-wife duos ….
James and Martha Carson, Wilma Lee and Stoney Cooper, Joe and Stacy Isaacs, Bonnie Lou and Buster Moore, Molly O'Day and Lyn Davis, Doc and Chickie Williams
Brothers ….
The Bailes Brothers, Callaghan Brothers, Goins Brothers, Mel and Stan Hankinson (The Kentucky Twins), The Lilly Brothers, J.E. and Wade Mainer
Families and groups ….
The Briarhoppers, The Coon Creek Girls, Betty Fisher and David Deese, The Lewis Family, The Masters Family
Other subjects about whom he has written include ….
Toby Stroud, Roy Harvey, Blind Alfred Reed, Onie Wheeler, Charlie Moore, Shannon Grayson, Asa Martin, Old Joe Clark, Kentucky Slim (aka Charles Elza), Anglin Brothers (aka Anglin Twins, aka Anglin Twins and Red), Raymond Fairchild, Rex and Eleanor Parker, Kelly Harrell, Tex Logan, Roane County Ramblers, Roba Stanley, Buzz Busby, Bill Harrell, Pete Pike, Buck Ryan, Carl Sauceman and his Green Valley Boys, Jimmie Rodgers Snow, Ernest V. Stoneman, Joe Stuart, Cecil Surratt, Uncle Eck Dunford, Alfred G. Karnes, Ernest Phipps and His Holiness Quartet, Betty Amos, Roni Stoneman, Stonemam Family, Dock Boggs, Noah Crase, Melissa Monroe, Emry Arthur, Goldie Hill, James Monroe, Paul (Moon) Mullins, Steve Ledford, Birch Monroe, Lulu Roman, Shenandoah Valley Trio, Jim Greer and the Mac-O-Chee Valley Folks, Aunt Molly Jackson, Morris Brothers (Wiley and Zeke), Harold Morrison, Jimmy Murphy, Kenny Baker, Callahan Brothers, Curly Ray Cline, Dixon Brothers, Bill Napier, Benny Martin, Don Stover, Tom Darby and Jimmy Tarlton, Paul Warren, Barrier Brothers, Red Ellis and his Huron Valley Boys, Sally Ann Forrester, Doc Hopkins, Howard (Big Howdy) Forrester and Carl Tipton, among many more.
His other important volumes include …
Mountaineer Jamboree: Country Music in West Virginia (The University Press of Kentucky, 1984)
The Stonemans: An Appalachian Family and the Music That Shaped Their Lives (University of Illinois Press, June 1993)
Country: A Regional Exploration (Greenwood Press, March 29, 2006)
West Virginia's Traditional Country Music (Arcadia Publishing, March 16, 2015)
Italian musician and historian Matteo Ringressi paid this tribute ….
"Mr. Tribe certainly doesn't need any introduction – the magnitude of his research work on early country and blue grass music is impossible to overstate, and his articles (some memorable ones for Bluegrass Unlimited come to mind) were always extremely informative and thorough.
The book Mountaineer Jamboree in particular was my first exposure to his work, and is an absolute masterpiece.
In the past several years, we corresponded at length, primarily for my research activities. He was always extremely gracious and willing to help – and even praising my expertise on the history of early blue grass music…I don't know that I deserve such accolades, but knowing I had his respect means a whole lot.
Finally, he was extremely supportive of my musical endeavours with the Truffle Valley Boys, often playing tracks from our records on his radio show on radio WOUB out of Athens, Ohio.
He was a huge inspiration and set the bar for all music scholars.
Godspeed, Mr. Tribe."
Beginning in 1983, Tribe, along with his wife Deanna, co-hosted and co-produced the program, Hornpipe and Fugue, for the WOUB Radio (Ohio University Public Media) for 40 years. Also, they were frequent monthly hosts of the program, D28+5 Bluegrass.
In October 2015, Dr. Tribe was presented with the B.B. Maurer West Virginia Folklife Scholar Award at The Frank and Jane Gabor West Virginia Folklife Center, Fairmont State University.
R.I.P. Ivan Tribe
Visitation will be Friday, April 7, 2023, from 6:00 p.m. to 8:00 p.m. at the Bigony-Jordan Funeral Home in Albany, Ohio, followed by Masonic services at 8:00 p.m. 
Funeral services will be held at 1:00 p.m. on Saturday, April 8, 2023, also at the Bigony-Jordan Funeral Home with Jordan Pickens officiating. 
Burial will be in Alexander Cemetery in Athens.