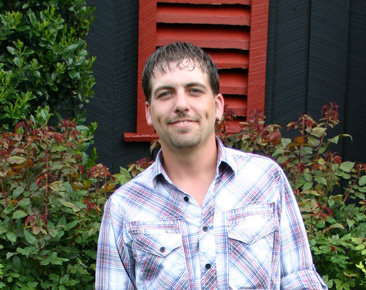 With Dustin Pyrtle hopping aboard the Quicksilver Express, Grasstowne is pleased to announce that Blake Johnson is their newest member, playing guitar and singing lead.
Blake lives in Roxboro, NC and has been playing guitar since he was ten years old. His musical upbringing is a familiar one in the bluegrass world. He got his first taste of singing in church with his family at three, and hasn't stopped since. As a young man he performed with Jay Kaczor and The Bluegrass Connection and The Hagar's Mountain Boys. More recently he worked with Travers Chandler and Avery County.
Grasstowne head honcho Alan Bibey tells us that they had the opportunity to provide entertainment earlier this month for a Kentucky Derby party in Shelbyville, KY at the 150 acre horse farm belonging to the owner of Shelbyville Ford. He described it as an unreal place.
Al also says that their next album, Grasstowne 4, is almost finished. It is being produced by the band with assistance from Ron Stewart, and is expected later this year on Mountain Fever Records. The record will include This Old Guitar And Me, a collaboration with Ronnie Bowman that finished the month of April at #11 on our Bluegrass Today Monthly Airplay Chart.
The band has a three-week tour of Scandinavia scheduled for this June and July. Sounds like a big summer for Grasstowne.