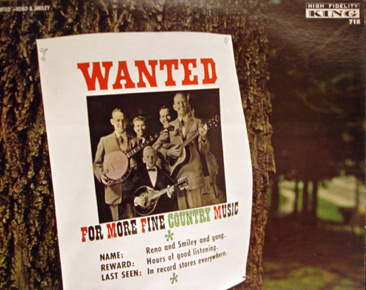 I have been around bluegrass radio my whole life. My grandpa, "Moon" Mullins, was a popular disc jockey in Kentucky, Tennessee, and Ohio for forty-five years, and was instrumental in presenting bluegrass and classic country music to the Midwest. My dad, Joe Mullins, has been on the radio for the past thirty years and owns and operates Classic Country Radio, a network of radio stations in southwestern Ohio which are heard around the globe. I am beginning to continue this tradition with my show, Bending The Strings, on Saturday afternoons. Bluegrass radio has always been a part of my life.
One of my earliest memories of being in the studio with my dad was when I was eight or nine years old. Dad usually wasn't on the air on Saturdays, but this morning he was filling in on a Saturday morning bluegrass show. He decided to take me with him this Saturday morning to hang out and learn more about what he does.
It was getting time for the show to start, and I was wanting Dad to play either something off the new Doyle Lawson & Quicksilver album or one of his old Traditional Grass cuts. He told me to calm down, because he had one picked out he knew I was going to love. He got up from his chair, walked past all of the CD racks, and over to the LP shelves. As a kid, LP's amazed me. They seemed like dinosaur bones from a world I thought was centuries removed. After thumbing through the albums, he dusted off one in particular and carried it to the turntable.
After pulling the vinyl from its sleeve, he handed me the cover to look at. There it was. The coolest album cover I had ever seen: Reno & Smiley's Wanted. The image of the Reno & Smiley Wanted poster nailed to the tree with the phrase,"FOR MORE FINE COUNTRY MUSIC," have been etched in my mind ever since. After reassuring me that I'd like this one, I anxiously awaited the top of the hour to hear what hidden gem Dad had picked out.
The name Don Reno had always been revered around our house. As one of Dad's banjo heroes, the name always demanded Dad's attention. As long as I can remember, Dad has been picking or singing some sort of Reno tune. Whether it's the Radio Ramblers doing Charlotte Breakdown, The Traditional Grass with Howdy Neighbor Howdy, or Longview and Brighter Mansion, Dad always has some sort of Reno tune ready to roll.
Finally the time had come. The news had just wrapped up and Dad had his finger on the trigger ready to let Reno & Smiley loose. Dad told me, "When I was your age, I used to think this was so cool," as he pushed the button and the old record began to spin. Expecting to hear a banjo or fiddle or something right off the bat, you can imagine my surprise when the first thing I heard was a rooster and dog! Pretty soon in came Don griping about the old mule. By now Dad was giggling like a little kid, and I was still trying to figure out what was going on. Instead of bluegrass instruments there were animal sounds? All of a sudden, a mule stepped on Don's foot and me and Dad both were dying laughing. Then Don and Red and the rest of the Tennessee Cut-Up's tear into Down On The Farm, which is their version of Whoa, Mule!
Down On The Farm is one of six instrumental selections on Wanted. Interestingly enough, the album is half instrumentals. The dozen songs included on the album have proved to be some of Reno & Smiley's most popular recordings.
Recorded in Cincinnati, OH for King Records, the majority of the tracks were cut over the course of two days in the summer of 1960. Reno & Smiley's previous two albums had been all Gospel projects featuring Don Reno on guitar. Many forget that Don was as skilled talented on guitar as he was on banjo. (Don't believe me? Listen to the original version of Country Boy Rock And Roll.) Many bluegrass fans, myself included, point to Don Reno as the transformation of the guitar from rhythm to a lead instrument in bluegrass music. However, that's a topic for another day.
Wanted served as return a to straight-ahead bluegrass following the aforementioned pair of Gospel records. At this time, the Tennessee Cut-Ups were an all-star group. In addition to Don and Red, the group included John Palmer on bass, Sid Campbell on rhythm guitar, Mack Magaha on fiddle, and a very young Ronnie Reno on mandolin.
This classic bluegrass album features memorable material from a variety of sources. Several of the tunes were borrowed from popular country artists of the day. San Antonio Rose was instrumental written by the King of Western Swing, Mr. Bob Wills. Don Reno worked it into a spicy banjo tune by kicking up the tempo and adding his own little twist. Before hearing Don's cut, the idea may seem a little odd to rework a Western standard into a traditional bluegrass tune, but Reno & Smiley pull it off without a hitch.
Another country music standard which Don and Red tackle is Born To Lose. Ray Charles did one of the most well known versions of the song, but other artists including Jerry Lee Lewis, Johnny Cash, and LeAnn Rimes have taken a crack at this classic. By turning the song into a form of duet, they were able to present an even more original interpretation than just "a bluegrass version."
Don and Red were really ahead of their time. Because Reno & Smiley were part of the first generation of bluegrassers, we may not think of them as "progressive" per se, but in their time they were doing things no one else had even thought of. Although rooted in tradition, they were always exploring ways to expand their music.
One of the biggest examples of their musical wizardry is on The Bells Of St Mary. If I asked you who had the first hit with The Bells Of St Mary (which Reno & Smiley transform into a banjo showcase on Wanted) the vast majority of you would have no idea.
I'll give you a minute to think about it….