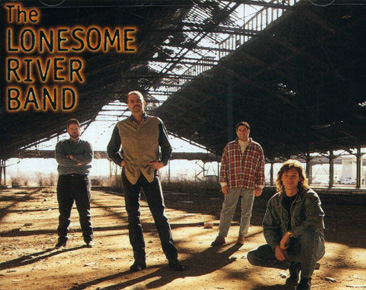 Don't worry everyone. I didn't go anywhere. I know there was no Album of the Week last week. Another semester of college is wrapping up and I was bogged down studying the Cold War presidents, the difference between "new federalism" and "dynamic conservatism," and writing a fifteen page essay about the legacies of George W. Bush and Barack Obama. I was also working on a massive term paper relating Bluegrass Murder Ballads to the Atonement of Christ, so at least I'm teaching them a thing or two!
It's hard to comprehend that the Lonesome River Band is three decades old. Generating bluegrass talent similar to Doyle Lawson's "School of Bluegrass," the Lonesome River Band has included such stars as Don Rigsby, Ronnie Bowman, Kenny Smith, Dan Tyminski, Dale Perry, Brandon Rickman, Tim Austin, Rickie Simpkins, Steve Dilling, Shannon Slaughter, Darrell Webb, Jeff Parker, Adam Steffey, and of course, the band's current leader, Sammy Shelor. With alumni such as that, the Lonesome River Band has helped change bluegrass history forever.
In 1995, the Lonesome River Band (LRB) was at a crossroads. Tim Austin, the last original member, had left the group. When Tim stepped down, he handed the reigns over to Ronnie Bowman and Sammy Shelor. Around this same time, mandolin man and vocal powerhouse, Dan Tyminski, left to join Alison Krauss' Union Station, where he has been ever since. It was a time of uncertainty for LRB. The combination of Tim, Dan, Ronnie, and Sammy had been the combination that catapulted the band to the top of their game, and secured their place as bluegrass leaders with their award-winning album, Carrying The Tradition. How were Ronnie and Sammy to maintain the band's current level of success? They brought in two bluegrass heavyweights: Kenny Smith and Don Rigsby.
One Step Forward was released in 1996 with this new lineup and it was just that – a step forward. Kicking off with When You Go Walking, you knew from the first track that they meant business. Don Rigsby just cuts loose and proves why he is one of the best bluegrass singers of the past twenty years. How he has never won Male Vocalist of the Year from the International Bluegrass Music Association just baffles me. The band is firing on all cylinders with When You Go Walking, and it is one of those tracks you will keep coming back to. It's a great one to have turned all the way up with the windows rolled down when you're flying down a country road.
In my opinion, vocal variety is a great thing to have in a bluegrass band. Having more than one lead singer has been a huge part in the success of such bluegrass bands as Dailey & Vincent, Blue Highway, Doyle Lawson & Quicksilver, Joe Mullins & The Radio Ramblers, and The Boxcars (just to name a few).
LRB is on that list as well. Ronnie Bowman takes the lead vocals on Say I Do. One of the best contemporary vocalists in bluegrass, it's no wonder why he has won multiple Male Vocalist of the Year awards. His voice is silky smooth, but still filled with feeling. Ronnie wrote Say I Do, and you get that assumption before you even crack open the liner notes by the way it matches his voice perfectly. It's a really catchy, with an addictive melody.
Sammy Shelor's banjo work on this song is also first rate. It takes a dynamic role and is almost like another voice. You begin looking forward to Sammy's "ba-dum bum-bum-bum" lick every time it comes up. Sammy's timing matched with creative licks such as these are why he has won multiple Banjo Player of the Year awards.
Sammy's banjo work is also showcased in the album's lone instrumental track: Southern Comfort. This song is a perfect combination of tradition and innovation. Sammy's banjo leads the way. Patting your foot is less a choice than a reflex when this one is playing on your stereo.
Kenny Smith's guitar work on Southern Comfort and throughout the whole album is superb. He brought a style all his own to playing lead guitar which has influenced pickers of all ages for the past fifteen years. You can hear traces of mountain fiddle, classical guitar, and Tony Rice, but it is ALL Kenny Smith -a truly unique sound. His guitar work shines throughout One Step Forward. His licks are tasteful and contribute meaningfully to the songs, without just "showing off."
Crossroads is a great song co-written by Ronnie with Harry Sisk and Tim Massey. It's a song of reflection about decisions you make in your life. Kenny Smith's magical guitar starts this one off on just the right note. A great message song, even non-bluegrass fans will appreciate this one. I can see The Zac Brown Band recutting this one sometime in the future.
Tim Massey also contributed another song on One Step Forward. Don Rigsby does a great job on Massey's This Lonesome Song. The title fits the song to a tee, for it is about as lonesome as a song can get! The vocal restraint which Rigsby shows is impressive. Sometimes when people sing sorrowful songs, they go overboard with emotion; it sounds like they are trying way too hard and isn't believable. Rigsby's control over his voice is a sign of his maturity as a singer. His vocal work on This Lonesome Song compared to his hard-hitting style on When You Go Walking showcases the depth of his vocal prowess.
In addition to engineering One Step Forward, LRB founder, Tim Austin contributed a song he co-wrote that fits the band perfectly. Flat Broke and Lonesome is bluegrass to the core!
Well, I ain't worked in a month of Sundays, I'm down to my last dime.
There's a cloud of misery hanging over me and it's raining all the time.
Each day feels like Monday and I don't know what I'll do.
I'm flat broke and lonesome and I'm working on the blues.
If you're broke and your woman leaves you, you know you're the subject of a bluegrass song. Who knew being miserable could be this much fun!? Ronnie's lead vocals are so powerful. His voice is dripping with heartache, and the blues-tinged style he uses fits perfectly. Instrumentally this one is a powerhouse as well. In addition to Sammy and Kenny, LRB calls in special guests Aubrey Haynie and Jerry Douglas on fiddle and dobro. Now, that's some bluegrass firepower!
One Step Forward also includes such great songs as Thank God For A Mama, Sorry County Blues, Carolyn The Teenage Queen, Crazy Heart, Georgia Mail, and Katy Daley.
Adam McIntosh, singer and guitar man with Joe Mullins & The Radio Ramblers is possibly the biggest LRB fan there is. An expert on the Smith-style of guitar playing, he is one of many young pickers whose formative years were shaped by Ronnie, Sammy, Don, and Kenny.
According to Adam…
"One Step Forward was the record that made me want to play guitar. When You Go Walking really got me fired up. That record is probably the single reason I love this music. Kenny's twist on lead guitar sealed the deal and I knew then, I wanted to play like that. I'm still trying."
I'm sure Adam's story is just one of many soaked in every note that came from LRB when learning how to play this type of music. Their fresh approach to bluegrass music still captures the attention of bluegrass fans both old and young alike.
The Lonesome River Band's One Step Forward was released on Sugar Hill Records (SHCD-3848) and can be purchased through County Sales and the Classic Country Connection. It can also be downloaded digitally through iTunes and Amazon Music.
Grab a copy of this now classic album from the Lonesome River Band and be glad that they decided to take One Step Forward.