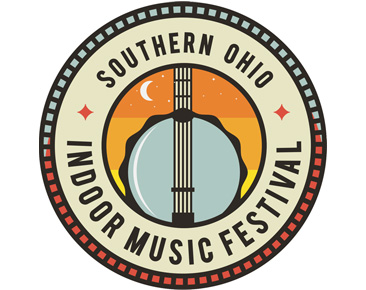 For over 5 decades, Southern Ohio has been a hotbed for bluegrass music, tracing back to the briarhoppers heading north for the industrial boom of the '50s and '60s. Supporting a family sometimes meant leaving your native mountains for the city, but these folks brought their beloved mountain music with them, helping soothe their homesick hearts until they could get back home for a weekend. Our music has blossomed in this area ever since, with the help of the Mullins family. The family tradition of bringing good music to Southern Ohio, via radio or live events, is still prominent today. Starting with Paul "Moon" Mullins, Joe Mullins has traced his father's footsteps in the bluegrass world, and even taken it beyond. This past weekend was proof of that at the Southern Ohio Indoor Music Festival.
The Roberts Centre in Wilmington, OH was loaded to the gills, with people lined out the fronts doors in the brisk wind, patiently waiting to get inside and hear the music. This November 2016 edition of SOIMF marked the 25th show that Joe and his family has put on at the beautiful Centre, conveniently located right off Interstate 71 in Wilmington. This year's lineup was stout, with The Radio Ramblers, Junior Sisk & Rambler's Choice, Idletymes, Larry Cordle & Lonesome Standard Time, Sugar Creek Bluegrass, Brooke and Darrin Aldridge, The Spinney Brothers, Rhonda Vincent and the Rage, Larry Sparks, and a new addition to this bluegrass stage, The Malpass Brothers, harkening back to the days of Real Country Music. This was a first for SOIMF, and I have a feeling it won't be the last.
Not a bad seat in the house could be found. With a huge screen on each side of the stage projecting a closer look at the entertainment, everyone in the crowd had an excellent view. Not to overshadow the top notch sound; Tom Feller was once again behind the steering wheel of a tremendous sound system that carried the music to every corner of the Roberts Centre. Blake Williams has also been an important figure at this festival for many years. He can have the crowd in the palm of his hands with his humor as master of ceremonies.
More than 20 vendors created a wide array of shopping. From homemade tater chips, old Martin guitars, jewelry, SOIMF shirts, Mo Pitney vinyl, and even scentsy stuff for the ladies, there were plenty of things to see and do at this year's festival. One thing that events around the country may take note of is the Instrument Check booth. A coat check of sorts, but for the picker's prized possession. A dedicated volunteer is at the booth for the duration of the festival guarding your fiddle, so it doesn't have to be toted everywhere you go. Just show the volunteer your ticket stub and they match it with the tag on your case and you get it back, safe and sound. A great convenience, for sure.
With a lineup like this, The Southern Ohio Indoor Music Festival is one of the top music venues in the nation, but sprinkling in special moments throughout the weekend make it a must-go-to event. Friday evening hosted several of these special moments. A half hour portion was set aside for every act of the day to honor our Armed Forces members with an All-Star Veterans Tribute. Starting with recognition of the veterans present, the tribute kicked off with Sugar Creek Bluegrass' excellent instrumental rendition of America The Beautiful. Next was the duo of Chris and Taylor Malpass singing the often overlooked Louvin Brothers Classic, Weapon of Prayer. The Queen stepped up with The Rage and poured the soul into Till They Came Home, and The Spinney Brothers joined in with an original song, Sally's Waltz, the story of a fallen soldier's widow as she coped with the thoughts of her unborn child never meeting his father. To close out the Veteran's Tribute, Joe Mullins and The Radio Ramblers left the audience in tears with a fallen Ohio soldier's tribute, The Last Parade. A truly special moment for everyone attending.
On an important note, when World War II Veterans were honored, one man stood up. One man. Out of 2000 people, one man remained from that generation of heroes. That man was Mr. Chubby Howard, radio personality and Hall of Fame steel guitar player.
Friday night also sported another special moment that set SOIMF apart from many other festivals. The Classic Country Jam Session at the end of the night. The Malpass Brothers closed out the night with Hunter Berry laying down some superb country fiddle, then were joined by Rhonda Vincent, Mickey Harris, Jason Barie, and Chubby Howard to sing and play some timeless music together. Two Steel Guitar Hall of Famers on the same stage. Lynn Owsley was laying it in there, but took a back seat to let 90 year old Chubby shine a little bit. You could tell that Chubby was eating it up! The harmonies of Chris, Taylor, and Rhonda would bring a tear to a glass eye, it was so good!
Saturday's special moments were a little more on the comedic side. Junior Sisk joined Joe and The Radio Ramblers for Wild Mountain Honey, but put a little spin on things. Junior hit the stage in full gorilla suit, shiny rear and all. Joe had no idea about this and got quite tickled at how close Junior resembled a big ole ape. Joe remarked "You gotta have a little fun sometime!" Brooke and Darrin shined, Junior hit the stage hard with power and energy, Larry Cordle put on stellar performances, but Larry Sparks took the cake, as he does everywhere he performs. A gentlemen who has forged his own music and stands beside it. His presence demands attention, and that's exactly what he received at The Southern Ohio Indoor Music Festival.
If you haven't made the journey across I-71 to The Roberts Centre, you don't have to wait to long. A Spring Festival is already set for March 24-25, 2017. Get your tickets in advance for a chance to see another incredible line-up brought to you by The Joe Mullins Family and His Radio Ramblers. Scheduled acts include: Dailey & Vincent, Flatt Lonesome, Sideline, Russell Moore and IIIrd Tyme Out, The Gibson Brothers, The Karl Shiflett & Big Country Show, Alternative Strings, The Wayfarer, and your Southern Ohio Indoor Music Festival host band, Joe Mullins and The Radio Ramblers. Tickets sales open on Thursday December 1, 2016 at 10 am. For information, you can call 937-372-5804 or visit www.somusicfest.com. A must-go festival that will keep you coming back to Southern Ohio every Spring and Fall.
Photos accompanying this review are a contribution from Bill Warren.