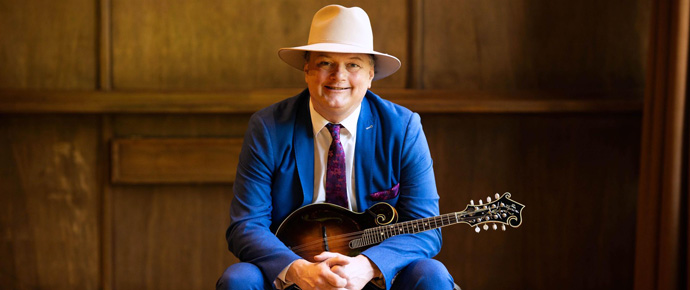 Nick Chandler, bluegrass singer and mandolinist from western North Carolina, and fearless leader of Pinecastle recording artists Nick Chandler & Delivered, is in the hospital this week being treated for blood clots in his lungs.
Chandler recently went through a bout with the dreaded COVID-19, but as he was vaccinated, he came through that well. But lingering as a result are these clots which are giving him serious breathing difficulties. In fact, it was only as he was nearly recovered from the viral infection that the breathing issues appeared, and the clots were diagnosed in the hospital.
Trudy, Nick's wife, has offered this update on his condition. She is unable to visit him in the hospital due to COVID restrictions, but she says he is doing well.
"He's in really good spirits and he is able to text me all day which is a blessing. I am cheering him on in everything that he is having done. He is requiring a lot of oxygen, but he is an absolute rock star. Thank goodness he is so strong. We thank everyone for their thoughts and prayers.
We don't like a lot of attention when it comes to personal issues, but we decided together that being a part of this bluegrass family is a special privilege, and we wanted to share what was going on with all of our friends and fans."
At this time, Nick is still in the ICU but Trudy expects that he will be stepped down once his need for oxygen abates.
She asks that friends not try to contact him while he's in the ICU. Trudy stays in regular touch with him all day, but he needs plenty of rest at this stage, and interruptions while he is sleeping could affect his recovery.
"I'm there with him in spirit. If he sleeps, I sleep. If he's awake, I'm awake. It's the closest I can be to him without being there."
Trudy will share any comments posted to Nick's Facebook page to him when he is awake, and any made here as well.
The Nick Chandler & Delivered show scheduled for this weekend in Easley, SC has been cancelled.
Get well soon, Nick!