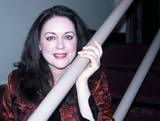 Singer songwriter Donna Ulisse is best known to bluegrass fans for the acclaimed writing she did on all fourteen tracks for her first bluegrass CD "When I Look Back." Now music lovers from other genres of music will be hearing her songwriting on the title track of "Cheap Escape" by Natasha Borzilova, former lead singer and acoustic guitarist of the Grammy nominated Russian band
Bering Strait.
"Cheap Escape" is a stylistic hybrid best described as folk/rock but is also a fusion of diverse musical influences and is Borzilova's first solo effort. It is being promoted to
Americana and Triple A radio. Ulisse recently spoke of co-writing with Natasha and said, "Her writing style is so fresh and at the same time as seasoned as an ancient poet. I find that when I write with her I am learning to let go of the "safe way of saying things" and embracing her uncanny good sense of telling a tale as only she can. I am a fortunate co-writer who so appreciates what Natasha brings to the table. Her melodies and command of the guitar inspire me every time." Ulisse and Borzilova are also label mates at Hadley Music Group.
The public became familiar with Borzilva and her band mates through their two CD releases on Universal South Records and the documentary, "The Ballad of Bering Strait" which aired on CMT and in many other countries as well as a feature piece which aired on 60 Minutes three times.
Bluegrass music lovers need not be concerned. Ulisse has far from abandoned writing for bluegrass music. She has just completed tracking a new project of all original material she either wrote or co-wrote. Guitar virtuoso Keith Sewell is producing once again with additional musical support from Rob Ickes, Andy Leftwich, Byron House and Scott Vestal. As she has said in many interviews, "when I write for myself, it just naturally goes in a bluegrass direction." Look for a fall release for Ulisse's new project. Borzilova's is currently available at many online locations.
www.donnaulisse.com & www.natashaborzilova.com