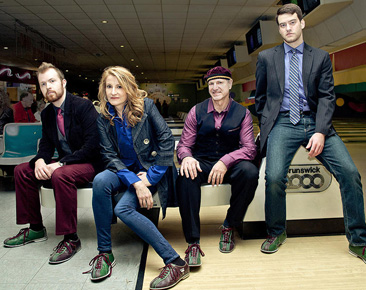 Claire Lynch will step away from full-time touring with her band at the end of 2016 to focus on songwriting, producing and mentoring, and to spend more time with her husband.
She sees the change as a new beginning.
"I'm just trying to downsize my administrative efforts," she told Bluegrass Today, the venue she chose to announce her decision. "I really don't plan on slowing down creatively. I love my fans and friends around the world too much to just disappear. This is not an end by any means. It may be just the beginning for some of my greatest work."
The Claire Lynch Band has been recording and touring since 2005, but Lynch has been working in music since the mid-1970s when she was co-leader of the Front Porch String Band. Along the way, she was IBMA's female vocalist of the year three times, won the organization's song of the year trophy for Dear Sister last year and was twice nominated for Grammy awards.
She also was a pioneer as a female bandleader. When she started playing that part, there were few female leaders to serve as role models in bluegrass other than the late Hazel Dickens. Now, in the wake of Lynch's success, female leaders are as common as cabin songs.
Lynch loves to write but hasn't had time to do much it while wearing all the hats of a bandleader and spending so much time on the road. "It's time in my life to leave the best creative mark that I can," she said. "Being in a different town every day is not really conducive to doing that."
She started thinking about reducing her touring schedule last year, after she married Ian Gray, a Toronto teacher. When she wasn't on the road, they would split time between homes in Nashville and Canada. "I found myself thinking if I was a producer I could spend more time with Ian," she said.
Lynch stressed that she isn't unhappy with her band, but just needs to refocus. She calls the current lineup – Mark Schatz, Bryan McDowell and Jarrod Walker — "a dream," but notes wistfully, "dreamlike situations don't last forever." Eventually there would be new musicians to hire, more one-night stays in motels, countless long drives late into the night and more suitcases and instruments to lug.
Lynch will record one more CD with the Claire Lynch Band, fulfilling her contract with Compass Records. Originally she planned an album of swing tunes – she always sneaks one or two into her sets. But she'll defer that and start working this summer on a recording that features writers from Canada – plus one song she wrote about someone from Canada.
The swing album and maybe others will come later. She doesn't have to be concerned about not being on a label. She released the highly regarded seasonal record Holiday! on her own Thrill Hill Records label last year and knows that approach can work.
She'll also play some smaller, shorter tours, on her own terms.
"I have a lot of energy left," Lynch said, "although 50-pound suitcases are starting to get difficult for me." Running a band, she added, requires "a lot of work beyond the music."