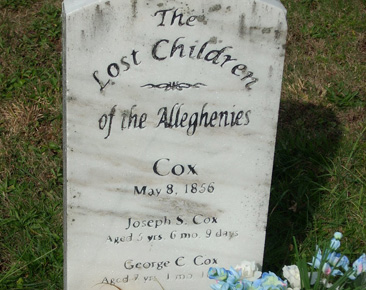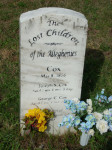 Jacob's Dream is based on a true story about two boys, Joseph, aged five, and George Cox , aged six, who were lost in the in the dense forest of Spruce Hollow, in the Allegheny Mountain region of Pennsylvania.
Two little boys lost in the wilderness of the Allegheny Front in April 1856 brought a thousand men from near and far to search the twisting hollows and steep ridges. For two desperate weeks, they hunted in vain until a man named Jacob Dibert had three dreams, in which he found them.
The song was written by John Pennell and Julie Lee, and recorded by Alison Krauss on her album 100 Miles Or More.
Pennell relates …….
"The song itself pretty much tells the story except for the chorus, which we wrote trying to imagine what the boys would be thinking or doing to get out of their predicament. But, the song has its origin in a legend that comes from the area in Pennsylvania where Julie grew up. You can look it up online for a complete telling of the story.

The main thrust of the story is that two boys became separated from their parents early in the day in the spring of 1856. They were not found for two weeks after their disappearance, and it was a dream that a young farmer named Jacob Dibert had that led them to the place where they were discovered.

Several hundred men had searched in vain for the boys. Word was spread through church gatherings and newspapers about their disappearance, but, it was only after Jacob had his dreams that they were found. And, it was only Jacob and his wife's brother who did the search, with many of the details of the dream reappearing as they looked for the boys. (a boy's shoe, a dead deer and the tree under which they were found).

A very chilling and sad story, but one of hope, I think, if you believe in a life after death. A very spiritual song, I believe."
Julie Lee shares her recollections of the story behind the song ….
"I grew up hearing the story and going to the monument where the children were found; as I did as a child, as my mother and grandmother before me. It's between the small mountain towns of Pavia and Lovely, Pennsylvania.

I am distantly related to Jacob Dibert on my mother's side, by marriage. So all my relatives up in this small area of Bedford County, Pennsylvania, in the Allegheny mountains know this true story. Everyone in that area knows the story of The Lost Cox Children or The Lost Children of The Alleghenies.

You can buy the little homespun book about it at local shops and historical sites.

The boys lived in Lovely, but got lost in the woods and disoriented because back in 1856 there were few roads and no electric light or lamp posts. The woods were very thick and the rivers and creeks in spring would have been full and raging with melted snow and it was a sparsely populated mountain settlement of German and Dutch immigrants, 'Pennsylvania Dutch' is what they are called now."
Jacob's Dream
©  Julie Lee and John Pennell
Country Gentlemen Music, admin by ICG (SESAC) / Solargrass Music, admin by Bug Music (BMI)
In the spring of 1856 with the snow still on the ground
Two little boys were lost in the mountains above the town
The father went out hunting the boys had stayed behind
While mother tended to her chores they wandered from her side
The two had gone to follow him and lost their way instead
By dusk the boys had not been found and fear had turned to dread
200 men had gathered there to comb the mountain side
The fires were built on the highest peak in hopes they'd see the light
Oh mommy and daddy why can't you hear our cries
The day is almost over, soon it will be night
We're so cold and hungry and our feet are tired and sore
We promise not to stray again from our cabin door
Now Jacob Dibert woke one night from a strange and erie dream
He saw a path between two hills near a dark and swollen stream
He told his wife he saw the boys huddled close beside a log
For two more nights the dream returned this vision sent from God
Oh mommy and daddy why can't you hear our cries
The day is almost over, soon it will be night
We're so cold and hungry and our feet are tired and sore
We promise not to stray again from our cabin door
a thousand men had searched in vain the west side of Bob's creek
But Jacob's wife knew of this place and said to travel east
With a guide to take him there, Jacob came upon the scene
And found the boys cold and still beneath the old birch tree
Oh mommy and daddy, look past the tears you cry
We're both up in Heaven now, God is by our side
As you lay us down to rest in the presence of the Lord
Know that we will meet you here at Heaven's door
Oh mommy and daddy, look past the tears you cry
We're both up in Heaven now, God is by our side
And as you lay us down to rest in the presence of the Lord
Know that we will meet you here at Heaven's door
Copyright reserved