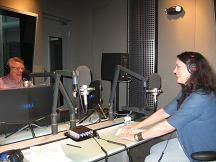 I had the opportunity to be the "fly on the wall" as I sat in the beautiful Sirius XM studios in downtown Nashville yesterday and listened to Donna Ulisse visit with host Kyle Cantrell as they played and discussed all thirteen tracks on her new release, "Walk This Mountain Down".
Much of the conversation was about how and why Donna wrote the songs since she is a writer or co-writer on all thirteen tracks as well as the process of recording with producer Keith Sewell. I also found it interesting to hear that when Ulisse was an artist on Atlantic Records that she was on Ralph Emery's Nashville Now TV show with Bill Monroe. Donna thought it was his last time he was able to be on the show and she shared some of the conversation and words of wisdom he shared with her during a commercial break that evening.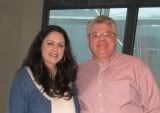 "Track by Track" gives listeners a wonderful opportunity to get in-depth information on their favorite artists and takes them deep into the new recordings an artist. Even though I am with Donna's label and have heard "Walk This Mountain Down" many, many times, I found myself hearing things I had not heard her share before due to Cantrell's skill as an interviewer combined with the time allowed for this type of show and I was enjoying the taping as a fan rather than record label insider.
The show airs for the first time on May 13, 2009 and then several more times that week. Check Donna's website and myspace for exact dates and times as we receive them.
Website: www.donnaulisse.com and Myspace: www.myspace.com/donnastanleyulisse