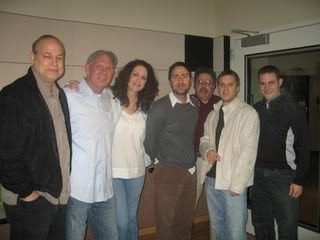 Pictured left to right: Dave Pomeroy, Rick Stanley, Donna Ulisse, Keith Sewell, Dave Higgs, Andy Hall, Andy Leftwich
Singer songwriter Donna Ulisse was in Nashville's NPR studios on February 1 with Dave Higgs, host of "Bluegrass Breakdown" performing six songs off of her current release "When I Look Back", a fourteen song collection of self-penned tunes receiving impressive airplay on bluegrass radio and now picking up steam on the Americana stations.
Performing with Ulisse on the show was an all star cast of players. On acoustic guitar & harmony vocals was her producer Keith Sewell, an artist in his own right on Skaggs Family Records and currently on tour with Lyle Lovett, Andy Leftwich on fiddle and mandolin and a regular member of Ricky Skaggs' band and also a member of the amazing Three Ring Circle, Dave Pomeroy on upright bass, a respected and busy member of the Nashville session scene as well as a member of Three Ring Circle and Andy Hall on dobro who is a member of Sugar Hill Records' The Infamous Stringdusters. Hall took some time to chat on air with host Dave Higgs about his new solo release, "Sounds of the Slide Guitar" on Sugar Hill Records and Higgs featured a couple of tunes from the album on the show. Contributing harmonies was Rick Stanley who also co-wrote four songs on the project with Ulisse.
The performance was laced with friendly banter between Donna, the players and Higgs as well as conversation about how some of the songs were born and commentary on the recording process on the project from producer Keith Sewell. There were several magical moments in the performances particularly on the song "Gone" when the singers and musicians all seemed to be breathing together as the song ebbs and flows dynamically.
The show is syndicated on more than fifty stations across the nation and will air on April 26 at 8:00 p.m. in Nashville on 90.3 FM and at various times and dates that same week on all the other stations that carry the show. www.donnaulisse.com or www.myspace.com/donnastanleyulisse
Pictured left to right: Andy Hall, Donna Ulisse, Keith Sewell