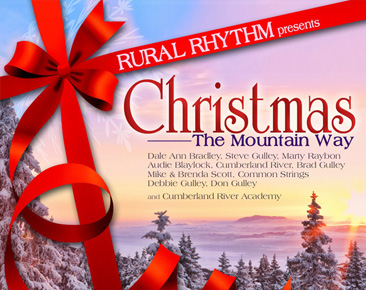 Rural Rhythm has released a promotional video in support of their upcoming 2-disc package, Christmas The Mountain Way. It includes both an audio CD and a concert DVD recorded this past June in Pikeville, KY for BlueHighways TV, which will air in November and December.
The special was hosted by Mike Scott, and features performances from several members of the Rural Rhythm stable: Dale Ann Bradley, Steve Gulley, Marty Raybon, Cumberland River, and Common Strings. Scott also performs with his wife Brenda.
The video offers a flavor of what you can expect when the set is released on November 13.
Three of the tracks from the audio CD are available now to radio programmers through Airplay Direct: the title track written and performed by Dale Ann Bradley and Steve Gulley; There's A Way In The Manger, performed by Marty Rayon, written by Raybon, Michael A. Curtis, and Mark Narmore; and Christmas In the Mountains, performed by Cumberland Mountain (Brad Gulley singing lead), written by the band.
Additional musicians on the show include Jason Burleson on banjo and guitar, Clint Hurd on mandolin, Brandon Godman on fiddle, Vic Graves on resonator guitar, and both Bryan Turner and John Bradley on bass.
Preorders for Christmas The Mountain Way can be placed now at Amazon.com.