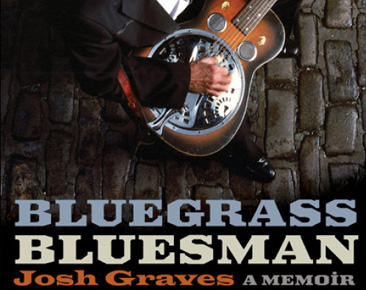 Although Bill Monroe never ordained it as the 'sixth child', the Dobro® / resonator guitar has become a mainstay in the instrumental line-up in many bluegrass bands.
That it has is due to Burkett Howard 'Josh' Graves, the subject of a new book, Bluegrass Bluesman: A Memoir, an autobiography edited by Fred Bartenstein, and due to be published today (September 1) by University of Illinois Press.
Credited with introducing the resonator guitar into bluegrass music shortly after joining Lester Flatt, Earl Scruggs and the Foggy Mountain Boys in 1955, 'Uncle Josh' or 'Buck', to use two other sobriquets attributable to Graves, has penned a brief – 176 pages – story of his colourful life as a bluegrass music troubadour.
As well as helping to make the Foggy Mountain Boys' distinctive sound, Graves's career included spells with Esco Hankins, Mac Wiseman, Wilma Lee and Stoney Cooper, Lester Flatt's Nashville Grass, the Earl Scruggs Revue and as a duo with Kenny Baker.  In addition to recording with all of the afore-mentioned, Graves also recorded with Steve Young, Charlie McCoy, Eddie Adcock, Jesse McReynolds, Marty Stuart, Jerry Douglas, and his three sons .
He played in a syncopated, three-finger picking style, adapted from Scruggs' banjo playing. His elegant yet bluesy approach meant Graves was an invaluable addition to ballads, but it was in playing up-tempo breakdowns that his lyricism and energy shone most brightly.
In addition to the many anecdotes the illustrated book contains tributes from more than 20 of Josh Graves's musical contemporaries and disciples, along with material about his instruments and his performance repertoire.
Fred Bartenstein shared this about the sources of the material for the book ….
"The autobiography was pieced together from three sets of interviews conducted in the early 1990s (separately) by Barry Willis, Bobby Wolfe, and Stacy Phillips. As editor, I removed the interviewers' questions, reorganized the material into a cohesive narrative, added explanatory notes and chapter introductions, compiled and edited testimony from Josh's contemporaries and disciples, and researched and selected photographs that would illustrate the text. In doing so, I felt like an art conservator trying to turn a room full of scattered mosaic pieces into a single image that clearly reflected the hand of its creator.

Fortunately, Josh was a brilliant and distinctive storyteller. I believe that his voice is clear and strong in Bluegrass Bluesman."
Continuing in a reflective mood, Bartenstein explains the rationale behind the choice of title for the book …
"I am struck with Josh's role as a link between the blues and bluegrass. He learned the blues from black musicians and continued personal and musical relationships with blues players throughout his life. I believe that it is no accident that in 1955, as Elvis Presley shot to popularity and America was fascinated by rock 'n roll (at that time, essentially black music played by white musicians), Flatt & Scruggs were excited to find a musician who knew and could merge the sound of the blues into bluegrass music."
Here's a reminder of the extraordinary talents of the pioneer of bluegrass Dobro ® playing with Flatt & Scruggs during a circa 1966 episode of the Barn Dance…
…and taking the lead on Pass Me Not,O Gentle Savior.
http://www.youtube.com/watch?v=IFRj8mT8J5M
Published by the University of Illinois Press, Bluegrass Bluesman: A Memoir by Uncle Josh Graves, is the latest edition in their Music in American Life series.
Notes –
Foreword by Neil Rosenberg
41 black & white photographs
ISDN 978-0-252-07864-4