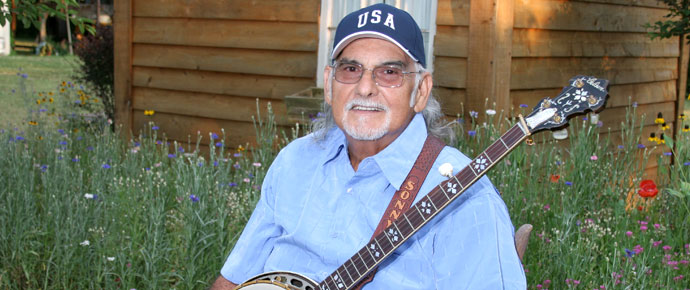 This week, the first Friday without our beloved Sonny Osborne, we thought we would do something a bit different. Since Sonny is no longer able to answer everyone's questions, we instead asked several prominent people in bluegrass to share their thoughts with the Chief.
All of Sonny's previous columns will remain online, and you can access them here.
First up is Larry Stephenson, Sonny's longtime friend.
Thank you Sonny for your friendship, mentoring, banjo playing, baritone singing (and yes… you can sing, and that was you singing on Me And My Old Banjo on my 20th Anniversary CD), being tough on me when I needed it, all the wonderful comments the last year or so on these pages about my current band and just being you!
I will miss you forever! Love you brother!
Larry Stephenson
Now we have a message from fellow banjo icon, Kristin Scott Benson.
Hey Sonny,
Absolutely love your solos on I Wonder How the Old Folks Are at Home with Mac. Today, I learned the rolls you played over the 4. The phrase on the 2 during the 2nd break is classic Sonny. Love the backup behind Bobby's verse, especially the lick around 1:50 that plays over the 5. Your 2-3 hammer-ons sound so good! Working all that out.
Hope you're doing well. We're good here. Hogan is driving, Lord help. What you told me about kids being a huge financial drain from 15-22? Remember that talk? You're so right, as usual.
Love you, Kristin
Paul Brewster played guitar and sang harmony with The Osborne Brothers, before his career-defining role doing the same with Ricky Skaggs.
Hey Sonny. You've been very truthful with me, since my audition in 1979 at your house. In the middle of rehearsing Making Plans, Bobby walked out.Wide eyed I looked at you and said, "Is everything OK?" You smiled and said, "You're in. Be at the bus at midnight." With a sigh of relief I went home and packed, and began a 10 year learning curve I'll never forget. Love you friend!!!
Terry Smith, now a Grascal, also did his bluegrass internship with the Osbornes, on bass.
"When I was young, I saw many Osborne Brothers shows in the '60s. I saw you change a banjo string while Bobby hit the high note on Ruby. You finished your break, then harmonized the ending. You guys were the most amazing singers and musicians ever. I was in awe of you, and never dreamed that I would one day be part of your band. Thank you for allowing me to share the stage with the best. You and Bobby were the best, and more than that, you were like family. You will always walk in my memories and exist in my heart.
Bill Evans had a long relationship with Sonny, banjo player to banjo player, starting when Bill hosted and helped produce The Banjo of Sonny Osborne for Homespun. Bill also co-produced fifteen annual Sonny Osborne Banjo Camps with Sonny and Cindy Sinclair in the Nashville area starting in 2000, and co-hosted a pair of IBMA substance abuse educational seminars where Sonny participated as a panelist.
Sonny, I want to thank you for mentoring so many players over so many decades, and I want to thank you for your friendship and mentoring to me. I have been truly blessed knowing and spending time with you. You showed me not only a vast amount of banjo playing, but even more importantly, you talked a lot about life and what was truly important.
You once gave me this professional advice: "You can't open every door by yourself, but when that door is opened for you, you have to be ready to walk through it." I know that the last couple of years were difficult ones for you, but I've been told that you were ready to walk through that final door when God opened it. I'm not sure if you'll be spending more time playing banjo than watching University of Kentucky basketball where you are right now, but keep a seat ready for when I drag you to teach another banjo workshop with me. I love you dearly and I miss you so much.
Blaine Sprouse spent several years on fiddle with The Osborne Brothers, after some time with Jimmy Martin, and offers these words.
Thank you, Chief, for those wonderful years we spent together on and off stage. What a pleasure and honor to stand next to you onstage, hear all the backup you did, and play off of one another. Your creativity and musical personality are unmatched.
And I will always cherish the nights when you'd drive and I would ride shotgun… wonderful conversations about music and life, and fiddling a bit along the way. Your sense of humor and wit were wonderful, and your heart was as big as the world.
I have always felt privileged and honored to have been a part of the Band.
Thanks, Chief, and Godspeed.
Larry Perkins was another of Sonny's banjo buddies who became a close friend.
Howdy Sonny.
I can only imagine how much better you're feeling now, and what a wonderful reunion that's awaiting you there, with all your folks and loved ones. I bet there's Earl, Don, Bill, Lester, Benny, Uncle Josh, John Hartford, Bill Emerson, Raymond Fairchild, Kenny Ingram, Grandpa and Mark, Oz, String, Doug Dillard, Tom T., Ralph, and Ms. Mae and Hoyt leading the adoring throng that makes up your welcoming committee – all just as happy to see you again as we are sad to see you go…
Thanks for being such a good friend, for all the beautiful music you filled our world with, and for being the inspiration you are and always will be..
Lovingly and appreciatively,
Lawrence (he always called me Lawrence) Perkins
And lastly, we hear from Daryl Mosley, now a solo bluegrass artist and songwriter, who got his start playing and singing with the Osborne Brothers before a long stint with The Farm Hands.
Dear Chief,
When you join a band, you expect to be paid for your services. But in my years with the Osborne Brothers, I don't think I have ever really thanked you for how overpaid I was. I was given the privilege of standing on stage next to you and Bobby and singing those classic songs. But it's so much more than that. You invested in me. There is no way to put a price tag on all I've learned from you. The hours and hours of conversations about the music industry, songwriting, relationships, running a band, old cars, the Bible, and dozens of other things was truly an education. Your insight, experience, and directness was invaluable and you shared it freely.
It was you who told me the bass I had wasn't good enough. But it was also you who helped me locate and acquire a better one. You sponsored my son's little league baseball team. And I don't think I ever sat down for a meal with you when you let me pay. The miles and miles of stories and laughter were alone worth a million dollars. You were nothing short of wonderful to me from the very first day, and I was blessed to call you my friend from then on. That's some serious overpayment.
Saying thank you seems so inadequate. You changed my life, Chief. You are appreciated and loved. Rest easy, friend.
Enjoy this classic video of Sonny talking about his time with Bill Monroe as a teenager.
Though he is also gone, we have this memory of Sonny from Raymond Fairchild's family. Some time ago Sonny showed up at the Maggie Valley Opry House, both to see Raymond and hear some music, but found the building locked up despite the sign saying "music every night, 7 days a week."
Sonny left him this note, which Raymond carried around in his banjo case for quite some time.
Feel free to add your own thoughts in the comments.