For me, the different stages of making a CD are like icing a forty
layer cake with the most delicious frosting you've ever put in your mouth. Why, just typing this description has my mouth watering for a banjo intro on some smokin' grass tune and piling it high with dobro, fiddle, mandolin, flat top guitar and that wonderful upright bass! Shut yo mouth and pass me a slice NOW!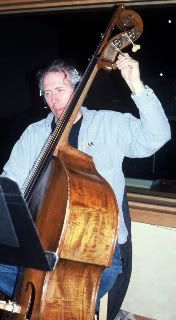 Of course there is the actual creation of the songs. I do that faithfully five days a week, showing up at the publishing house and whippin' out the laptop, facing a co-writer or going all alone and whittlin' away at whatever idea is floating around that day. Whew, here comes a song, now what do I do? For me, I gather about fifteen of those jewels and call up Keith Sewell and start planning a session.
Keith Sewell and I are currently working on my newest CD and I'm so excited about it that I feel like I'm four years old again and standing in line to see Santa with my grandmother holding my hand. I know what some of you radio folks are thinking….."It's too soon for your second bluegrass CD"…..I know, I know, but we're having to juggle a lot of schedules to get the musicians that Keith and I had our hearts set on using. Folks like:
Andy Leftwich, roaming the roads with Ricky Skaggs and recording and working dates with Three Ring Circle. Byron House, totin' that big bass fiddle across the country with Sam Bush and doing tons of sessions. Scott Vestal, rolling those strings with Sam Bush and staying busy in his own studio. Rob Ickes, playing that dobro with Blue Highway and recording and working with Three Ring Circle.
And of course, Keith Sewell, my producer and acoustic guitarist who is going to be hitting the road with Lyle Lovett this summer in between his regular session work and producing a certain Italian chick Bluegrass singer! We are also wanting to use a fair amount of guest singers on this project and there's more juggling to accomplish that task. The whole thing is going to take awhile to complete. The record label is hoping to have it all finished and ready to go by IBMA WOB this year. I'm just hoping that I can be patient enough to wait that long.
Last Monday I walked into the Sound Kitchen Studio at 9:15 a.m. and heard Keith getting guitar sounds in the booth. My heart just started racing around trying to
find the best seat for the show. I didn't want to miss a thing; tuning, string breaking, adjusting microphones, getting sounds, whatever. I love it all. You can imagine that this happened to me as each musician arrived. By the time we were ready to run the first song, my heart had moved as close to jumping out of my chest as it dared. These guys are so very talented and I couldn't help but be overwhelmed at the thought that my voice and my songs were surrounded by this incredible playing. It doesn't get much better than this. Yep, get me a dessert plate and a fork. I'll be having plenty of cake at this party! www.donnaulisse.com www.myspace.com/donnastanleyulisse