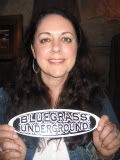 WSM Radio will once again broadcast the performance of Donna Ulisse and her band The Poor Mountain Boys from Cumberland Caverns for the Bluegrass Underground show. The broadcast will begin at 5:00 p.m. CST on Saturday, September 19, 2009 just before the Grand Ole Opry warm-up show airs. Bluegrass music lovers from all over the world can tune in and listen online at www.wsmonline.com or if they are in the Nashville listening area they can tune in to 650 AM on their radios.
The show was taped when Ulisse and her band played Bluegrass Underground with Russell Moore and IIIrd Tyme Out.
Bluegrass Underground is a radio show recorded live 333 feet below ground at Cumberland Caverns in McMinnville, Tn inside of what was named by the first people to behold the natural amphitheatre, The Volcano Room. Here water and time entwined 3.5 million years ago to create one of the most acoustically pure natural spaces on earth. No man-made sound reaches the Volcano Room and the living rock hued amid the eons is jagged and uneven, providing limited echo.