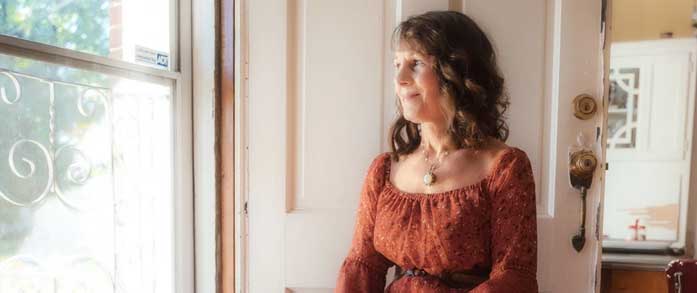 Writers are always counseled to write what they know. That's not an issue for Irene Kelley, who has created a cabin industry of sorts out of writing songs about home, family, and her life. Her latest indie CD, Snow White Memories, fits in perfectly.
A few of the 11 tracks on her independent release grew out of a major event in many people's recent lives, the isolation and uncertainty of the pandemic lockdown. Others built on those themes once life began returning to normal.
Kelley and I had a chance to chat about songwriting earlier this year at the annual gathering of the Society for the Preservation of Bluegrass Music in America. My second-favorite part of music, after writing songs, is talking about writing songs. Having that talk with the veteran Nashville writer, whose songs are mainstays on bluegrass charts and radio shows, was like having a chance to sit in on a master class.
The conversation started with the metaphor-rich title cut. The title of both the record and the song prompted mental pictures of princesses and Disney productions. Kelley quickly set me straight.
"The song is about my story and my early days in a small town in western Pennsylvania, where the winters were long, but so are the memories," she said. "It's a metaphor for looking back and having reverence for your hometown."
The second verse zooms right in on family, and the unstoppable passage of time. She writes about putting away "mama's lace, you know, her wedding dress. And there's so many other souvenirs. It's like they're all here in this place, frozen in time." Anyone who has cleaned out or sorted through possessions after the death of one or both parents, will identify.
The song was a family affair, written with her daughter Justyna, and featuring harmonies from her and Kelley's other daughter, Sara Jean.
Like nearly everyone in the music business, the pandemic threw a giant wrench in Kelley's plans. But it gave her the gift of time, allowing her to noodle with ideas, either at home, at her cabin in the Great Smoky Mountains of Eastern Tennessee, or on the road back and forth. 
Her cabin was close enough to Nashville that she could drive there and back without stopping for gas during the darkest early days of COVID, but still gave her a sense of getting away. Later, as the situation eased, it became a writing retreat for Kelley and her co-writers, including Terry Herd and Ronnie Bowman.
At one point, Kelley felt, like most of us probably did, "alone and isolated." She picked up a guitar and sang the word "lonely" again and again over a descending melody line.
She showed what she had to longtime friend Mark Irwin when he dropped by to write, socially distanced on the back porch. His response: "Let's keep what you have and lean into it." It helped that Kelley and Irwin had a good track record together – including A Little Bluer Than That, cut by Alan Jackson. "I trusted his direction, and the process," she said.
One piece of advice that Kelley shared is that good enough isn't good enough.
She cited Safe Travels, My Friend, written with Herd and Bowman, as an example. None of us is guaranteed tomorrow, an uncertainty that was magnified by the pandemic. She called that uncertainly "a silent reality that runs through our days as we say hello and goodbye to friends and family, not knowing if and when we should see each other again."
They wrote the song at Kelley's cabin, and thought she liked it, "there was something about it that wasn't quite done." One day, on the phone, Bowman said he loved the song, "but it's not there yet." They stayed on the phone and dug in. "We hashed it out, got the lyric right. And now it's the song we meant to write."
The lesson, she said, is "it's important to take your time to make it better." It's easy to fall in love with what you just wrote, so it's vital to step away for a while and come back with fresh eyes and ears.
Emotions run deep in that song, as they do in many of her best. And if she can feel it, chances are listeners can as well.
"I want to dig into that," she said. "It makes me want to write more songs."
And that is a very, very good thing.
Safe travels!