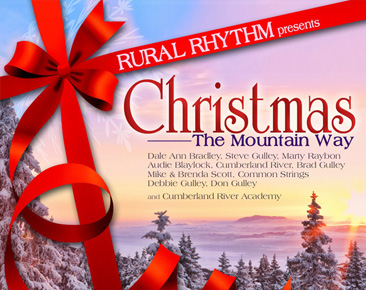 For most bluegrass musicians, summer is festival season. However, a number of today's top artists took a short break from touring this past June to get in the holiday spirit. For Steve Gulley, Dale Ann Bradley, Mike Scott, and the rest of the artists featured on the new Rural Rhythm collection Christmas the Mountain Way, Christmas came a little early as they gathered at the Bell Theater in Pineville, KY to record this live album.
Christmas the Mountain Way features over twenty different musicians performing fifteen tunes, including classic Christmas carols, several new originals, and traditional hymns reflecting on the reason for the Christmas season. Dale Ann Bradley and Steve Gulley kick things off with the title track. This original composition by Bradley and Gulley is an upbeat bluegrass tune which speaks of a simpler kind of Christmas where friends and family were what mattered, instead of the decorations and presents.
Other originals include two country-influenced songs: Marty Raybon's There's A Way in the Manger (co-written with Michael Curtis and Mark Narmore), a tender song about the importance of Jesus's birth, and Cumberland River's Christmas in the Mountains which shares scenes of life during a rural Christmas season.
Many of the other songs which are included are performed in a straightforward, yet enjoyable, traditional bluegrass style. Audie Blaylock's version of Joy to the World is cheerful and upbeat, while Marty Raybon's rendition of Silent Night is somewhat stripped down, letting his vocals stand out. Mike Scott, who also served as host for the concert, contributes a fun, banjo-heavy version of Jingle Bells. Students from the Cumberland River Academy of Bluegrass and Appalachian Music, which is located in Pineville and has counted several of the artists featured here as instructors, are also featured on one track, singing Go Tell it on the Mountain.
Some of the album's best tracks are the hymns which are mixed in between the Christmas songs. Dale Ann Bradley offers a nice version of In the Sweet By and By, while Don Gulley's heartfelt In the Garden features some fine fiddling. A standout track is Audie Blaylock's traditional version of the bluegrass Gospel standard A Voice of Our Savior.
Despite several songs in which the sound quality seems to be a little off, the album is enjoyable and will appeal to both fans looking for a new collection of traditional Christmas music and those who enjoy bluegrass Gospel. The artists featured are top-notch and a "stage band" consisting of Jason Burleson (banjo/guitar), Clint Hurd (mandolin), Brandon Godman (fiddle), Vic Graves (dobro), and Bryan Turner (bass) are included on most songs, proving their talents well.
Also included with the live CD is a DVD of the concert. This is a nice addition featuring artist interviews and some behind-the-scenes information about the theater where the performance took place. Viewers have the option of selecting individual songs to watch, watching the entire performance straight through, or hearing commentary from the musicians before each tune.
Christmas the Mountain Way can be purchased from a variety of online music retailers, including Amazon and iTunes.