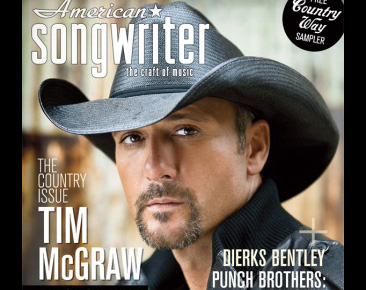 The May/June issue of American Songwriter magazine has a lot to offer bluegrassers, although not on the songwriting front. The country music issue is filled with insights about Chris Thile and the Punch Brothers, Dierks Bentley and the man himself, Bill Monroe.
I know what some of you are thinking: The Punch Brothers and Dierks Bentley aren't really bluegrass pickers. And what new can possibly be said about the Father of Bluegrass that hasn't been said during and since the celebration of what would have been his 100th birthday?
I'll give you the last one. Those who live and breathe bluegrass won't find much that is fresh in "Bill Monroe, Father of Bluegrass," an essay in the magazine's "American Icons" section. But for a general audience, writer Paul Zollo offers a fairly comprehensive career retrospective.
For me, though, the highlight is an observation by Zollo that indirectly plants Mr. Monroe squarely in the middle of the "what is bluegrass?" debate that we're in the midst of. He writes that Monroe "understood that the music that the public likes is never static, and that musicians need to ride that tide, always evolving and expanding their scope."
No matter where you come down on drums, the Punch Brothers and all the rest, there's a lot to ponder in the single sentence.
So if Bill Monroe was always adapting, who would he be today? Writer Rick Moore has an answer that's sure to be controversial: Chris Thile. In his essay on the Punch Brothers, "American Pickers," Moore writes:
"Imagine what Bill Monroe might be doing today if he were under 30. Just as he did some 70 years ago, he might be revolutionizing the role of the mandolin in modern music, and sometimes singing in falsetto, while fronting a modern quintet featuring only the best musicians on mandolin, guitar, banjo, fiddle, bass and harmony vocals, while mostly, but not always, performing original material. While Chris Thile may never have meant to evoke such a comparison, the parallels can't be denied."
The article goes on to say that the Punch Brothers are "a 21st Century version of the Blue Grass Boys."
While the article starts with that premise, which would require an endless series of essays to debate, most of Moore's piece is devoted to the instruments the band members plays, including Thile's 1924 Gibson Lloyd Loar F-5 mandolin, and the equipment they use, including picks and strings. If that sort of thing interests you, this article alone might be worth the $4.95 cover price.
I don't know about you, but if I owned a Loar, I'd be scared to death to take it out of the house. Actually, I'd probably be afraid to keep it in the house, too. But Thile has a different take in Moore's article: "The thing about having a great instrument is that it should be played. It shouldn't be babied, it shouldn't be preserved liked a museum piece…If something is in playable condition you should play the ever-lovin' hell out of it."
The feature on Bentley, under the headline Dierks Bentley, Red, White and Bluegrass, includes this fun fact: After he moved to Nashville in the mid-90s, he became a groupie, of sorts, for a bluegrass legend. "I became a complete Del-head, and I was following the Del McCoury band to places like the Telluride Bluegrass Festival," he told Jewly Hight. He credits bluegrass with reigniting his passion for country music, saying the bluegrass experience "helped me find my voice and foundation."
Alas, there is one glaring shortcoming in the magazine: There are no bluegrass tunes including among the 13 free downloads available with this issue.