Some time back, we mentioned the efforts of Dixie Bee-Liners to publicize the campaign to see seminal bluegrass guitarist George Shuffler inducted into the IBMA Hall of Fame.
Their contribution was a commitment to perform The Stanley Brothers' Will You Miss Me, with its signature Shuffler guitar intro, at all of their shows until the induction was accomplished. They also used the occasion of performing the song at festivals and concerts across the US to note that Shuffler's inclusion in the Hall was overdue.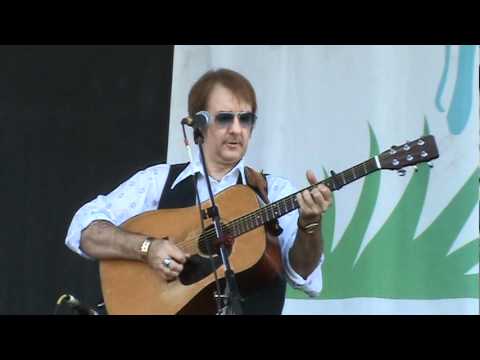 Now that the voting membership of the IBMA has chosen to bestow this honor, something that will officially occur during the 2011 IBMA Awards show in September, we asked Bee-Liner Buddy Woodward to share a few words about George, and his important place in the development of bluegrass music.
"Anyone who has seen or heard The Dixie Bee-Liners knows we're not what you'd call a 'traditional' bluegrass band, in the strict sense of the word. Although I find the term "traditional" to be a bit of a misnomer in any case, as Bill Monroe was doing something new and radical when he burst onto the scene in the late 30's, and continued to tinker and refine his music right up to his last days. That is a common thread among all of the first generation bluegrass musicians; they took a basic template, and then gave it their own personal stamp, adding new ideas, new songs, and new instruments along the way. None of them really sound that much like each other, and they weren't afraid to experiment and push the envelope. That's the kind of 'tradition' I can get behind!

One of the most respected and revered among this group — and one of our biggest influences — was The Stanley Brothers. At the heart of their band was George Shuffler, first breaking new ground on upright bass with his distinctive walking style that went on to influence generations of players, then pioneering the use of lead guitar in the genre. Crosspicking, the style George developed out of necessity to fill the spaces between the vocals when the Stanleys were traveling as a three piece, is one of the most important and respected guitar styles in bluegrass. When you consider that in the early days the guitar was merely regarded as a necessary rhythm instrument, and that today almost every modern bluegrass band features lead guitar to varying degrees, that's an incredible legacy.

I had somewhat of a personal stake in seeing Mr. Shuffler honored; in 2005 I was hired by The Barter State Theatre of Virginia to act in a play titled Man of Constant Sorrow: The Story of The Stanley Brothers by Dr. Douglas Pote, in which I played three roles, including that of George Shuffler. I spent a lot of time working on getting the crosspicking RIGHT, and I've gone on to incorporate the style into our music, including our hit single, Down On The Crooked Road.

Seeing George inducted into the Hall of Fame this year was less of a campaign for us, and more of a crusade. All of us are here because we are standing on the shoulders of giants.

PS – Kudos also need to be given to James Alan Shelton, and Pete Wernick, both of whom have been lobbying the IBMA for years to make this happen."
Buddy tells us that upon reflection, they intend to keep Will You Miss Me in their stage show, or perhaps rotate a number of Shuffler showpieces through the set.
"It's our hope that the honor continues long after the Awards Show ends, and we will do our part to see that it happens."
Just so.
John had served as primary author and editor for The Bluegrass Blog from its launch in 2006 until being folded into Bluegrass Today in September of 2011. He continues in that capacity here, managing a strong team of columnists and correspondents.
Latest posts by John Lawless (see all)
Category: Miscellaneous bluegrass news
Subscribe
If you enjoyed this article, subscribe to receive more just like it.