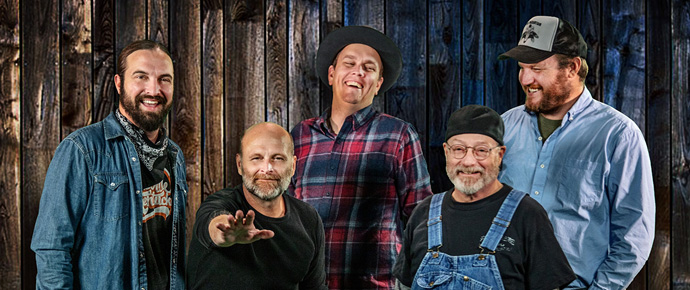 Original music-based Wolfpen Branch, located around Lexington, KY, has announced the dissolution of the group.
They had formed about two years ago around the nexus of a long running band known as Hancock and Shouse, based on the primary singers and songwriters, Chris Shouse and Arthur Hancock, whose sound was contemporary newgrass. Wolfpen Branch brought the sound back to a more mainstream grass, adding Aaron Bibelhauser on banjo, Roddy Puckett on bass, and first Kati Penn and more recently, Jeff Guernsey on fiddle.
They had recently released an album, Long Hill To Climb, with new songs from Aaron, Chris, and Arthur.
Aaron tells us that the Branch suffered the common problem of having too many cooks in the kitchen.
"Wolfpen Branch is peacefully disbanding and dissolving the business, due to some professional disputes within the group. It was a beautiful ride, making music together and sharing new bluegrass sounds with the world, and I'm grateful for every second."
Bibelhauser says that he will be focusing his attention on a new act he hadnrecently reformed with his twin brother, Adam.
"I will be amping up tour dates and opportunities with the Bibelhauser Brothers band, as well as solo, singer-songwriter engagements. I look forward to discovering what's behind other doors as they open. It's a bright road ahead."
No word about whether Hancock and Shouse will rise from the ashes.
UPDATE 5/11: Ask and you will receive… Arthur Hancock shared this update about he and Chris' new format:
On Saturday May 6th (two days after the dissolution of Wolfpen Branch) Chris Shouse and Arthur Hancock IV made lemonade out of lemons by performing to a packed house at The Burl in Lexington, Kentucky on a show that was originally slated for Wolfpen Branch. The show featured opening sets by Grace Rogers & Blakely Burger as well as The Plate Scrapers
Arthur and Chris made a few calls to longtime friends and quickly rose from the ashes of Wolfpen Branch by playing a show featuring each singer's originals as well as a variety of interpretations of non-bluegrass material. The show featured a five piece configuration followed by a super jam with some of Kentucky's hottest pickers and singers.
The new five piece features guitar phenom Jed Clark on bass, kentucky native Cody Dugger on 5 string banjo, Christian Ward on fiddle, with Shouse on mandolin and Hancock on guitar.
For the second set at The Burl, H & S hosted the amazing Cory Walker on the banjo, Don Rogers on the lead guitar, Blakely Burger and Ella Webster on fiddle, with a guest vocal appearances by Charlie Overman and young guitarist Samuel Kashar who performed the classic Dead Flowers made popular by The Rolling Stones.
It was in fact Kentucky Derby Day, and Hancock is proud of his family's legacy in the signature sport of The Bluegrass State, thoroughbred racing. He is also proud to be serving on the IBMA Foundation Board and with the help of his family established the JD Crowe Banjo Scholarship.
Highlighting the night in Lexington was a grand finale featuring rising star Cole Chaney, who performed his hit Another Day in the Life, The Old Home Place, and a group rendition of My Old Kentucky Home featuring the triple fiddles of Ward, Burger, and Webster. It was a great night for everyone involved.
Here's where you can catch Hancock & Shouse in the coming weeks:
Hancock & Shouse has assumed the majority of Wolfpen Branch dates and has confirmed the core lineup from The Burl to continue playing with the group. Hancock & Shouse will continue their working relationship with Blue Sun Artists and Sidd Kalstrom from Portland, Oregon.
May 20 – Sleeping in the Woods Songwriter Festival – Hidden Ridge Camping – Monticello KY
May 27 – Morehead KY- Roots Music Weekend
June 2 – Riverdog Retreat – Oberlin Ohio
June 4 – Railbird with Cole Chaney
June 8 – Spirit in the Bluegrass – Kentucky Horse Park – Lexington, Kentucky