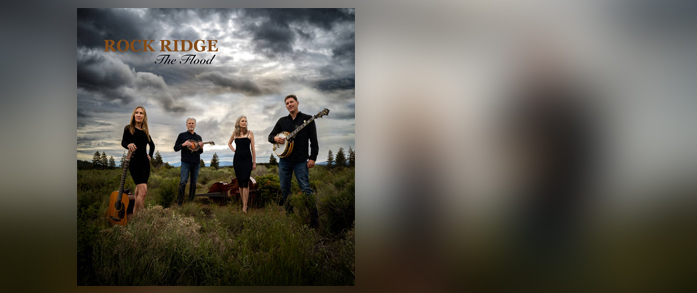 Along with founders Rick and Josie Grant on mandolin and rhythm guitar respectively, Rock Ridge further consists of Dale and Suzanne Adkins on banjo and bass. The vocals are largely centered around Dale and Josie, as evidenced from the opening and title track of the project, The Flood. Written by Suzanne Adkins, this metaphorical song about lost love packs a lot of punch. Chad Manning from Berkeley, California guests on fiddle on this and several other songs on the project.
Sleeping Cold by Kasey Chamber and Shane Nicholson, once again displays the strong vocal blend of Dale Adkins and Josie Grant. This haunting piece has somewhat of an old time feel and features Dale on tenor guitar. Forget The Hard Times by Suzanne is performed in a similar vein, and contains smooth fiddling from Greg Spatz of Spokane, Washington along with great baritone vocals from Rick Grant.
Climb That Hill is a driving piece written by Dale that captures the band's instrumental and vocal intensity at its finest. Blue Night of course comes from the pen of Kirk McGee. Rock Ridge's rendition captures the wonderful vocal blend of Suzanne Adkins and Josie Grant. I personally hope we hear more duets from them on future projects.
Farmer's Lament by Rick Grant is a melancholy piece that tells the common tale of a farmer's struggles and trials. Played in a minor key, the instrumental performance along with Josie's lead vocals convey this story beautifully.
Don't Let the Stove Go Cold again comes from the pen of Dale Adkins. This upbeat track talks of escaping a viciously cold day in winter. This piece in particular features a great vocal harmony stack with Dale on lead, Suzanne on tenor, and Josie on high baritone.
Most listeners will be familiar with John Pennell's composition Foolish Heart as it was originally recorded by Alison Krauss on her 1987 Rounder debut, Too Late To Cry. The rendition here sticks fairly close to Krauss' arrangement. Even so, it's really well done.
Rock Ridge is a band with a lot of promise. Not only are their vocals and musicianship top notch, but there's several great songwriters within the group. It's evident that they have spent a lot of time refining their identity as an ensemble. The Flood is a fruitful result of their productivity.