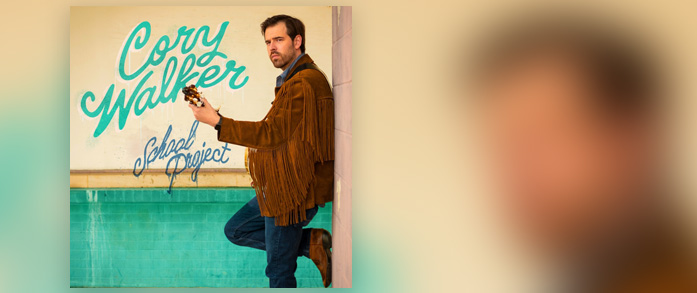 Cory Walker has made a name for himself as one of Nashville's most accomplished banjoists. Working with numerous artists such as Sierra Hull, The Dillards, Ricky Skaggs, Kix Brooks, and currently East Nash Grass, Cory has always been surrounded by great instrumentalists and vocalists. This is most certainly the case with his debut solo release, School Project, on Mountain Fever Records.
Right off the bat, this album leads us to Cory's unique style of banjo playing. The opening track, Jamboree, by Andy Belling, demonstrates his combination of traditional and contemporary ideas. The backing musicians on this track include Jake Stargel on guitar, Mike Compton on mandolin, Billy Contreras on fiddle, and Dennis Crouch on bass.
Far Away Again penned by Cory's brother, Jarrod Walker, and Christian Ward, is sung by Tim O'Brien. This piece is perfectly suited for Tim's voice and he also plays excellent lead guitar on this track. Walker and O'Brien are also joined by Contreras, Crouch, mandolinist Harry Clark, and resophonic guitarist Gaven Largent.
Nashville Skyline Rag is one of two Bob Dylan songs on this recording. Featuring Jake Stargel on guitar, Harry Clark on mandolin, Gaven Largent on resophonic guitar, and Jeff Picker on bass, this track demonstrates the creativity of Walker and all of his fellow musicians.
The other Dylan song, One Too Many Mornings, is the ultimate highlight of this album. Featuring Rodney Dillard on guitar and lead vocals along with Herb Pederson on resophonic guitar and tenor vocals, this performance is reminiscent of the fantastic music that Rodney and Herb made together as part of the Dillards in the late 1960s and early 1970s. This track again includes Jake Stargel on guitar, Mike Compton on mandolin, Billy Contreras on fiddle, and Dennis Crouch on bass.
Made In France comes from the French Jazz guitarist, Biréli Lagrène. This track in particular demonstrates Cory's versatility on his instrument. Out of everything on this release, this tune is most arguably more out in left field than others on the project. Nonetheless it's a fine addition and features great performances from Walker as well as guitarist David Grier, mandolinist Harry Clark, and bassist Geoff Sanders.
Tried To Ruin My Name was first recorded by Wilma Lee and Stoney Cooper in 1952, and is sung here by Sierra Ferrell of Americana fame. This is another one of those cases where the voice fits the song perfectly. Ferrell conveys the story of the song with just the right amount of raw attitude. Joining her on harmony vocals is Audrey MacAlpine and Nate Leath, who also plays fiddle on this track. Instrumental backing is provided by Stargel, Clark, and Crouch.
Marlin's Waltz co written by Cory and his dad, David Walker, is a beautiful piece featuring excellent twin resophonic guitar work from Walker and Largent. Billy Contreras' fiddle work on this particular track is also worthy of mention. It's a jazz oriented solo with a heavy Vassar Clements influence.
School Project is a wonderful effort. The instrumentalism is top notch, the vocalists deliver first rate performances, and the chemistry between Cory Walker and the various musicians who back him is evident on every track. This school project gets a grade of A+!