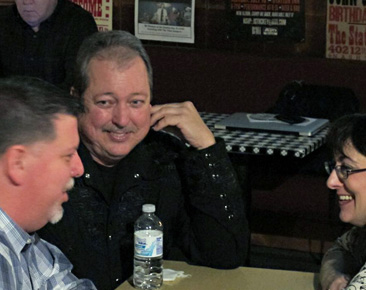 You might not expect the 7-time IBMA Vocal Group of the Year to put out a collection that includes covers of songs from everybody from John Denver to The Platters, but that's just exactly what Russell Moore & IIIrd Tyme Out have done. They've collaborated with Cracker Barrel Old Country Store to release Timeless Hits from the Past… Bluegrassed, the latest in the restaurant and retail venue's series of exclusive compilations from mostly country and bluegrass artists. The album includes cuts like Gene Watson's Farewell Party, the George Jones and Tammy Wynette classic, Golden Ring, Glen Campbell's Gentle on My Mind, and more in a widely varied roundup of songs.
Friends, family and devotees joined the band at Nashville's jumping-off point for bluegrass, The Station Inn, on Thursday the 10th to celebrate the release and perform a few numbers from the collection. We sat down with Russell and banjoist Steve Dilling to talk over the theme for the record, hearing it for the first time in a Cracker Barrel restaurant, how such an unlikely collection of songs came together, and why Sonya Isaacs makes a perfect Tammy Wynette.
Bluegrass Today:  So, what was it like to hear the album in Cracker Barrel for the first time?
Steve Dilling:  It was over in East Tennessee. As soon as we opened the door — it was on Monday [January 7th], the release day. We were like, "Listen man, listen!" It was a neat experience. Because we, I mean, long before this deal we went to Cracker Barrels. We all have, all our lives.
We were hoping, I'll confess, we were hoping a waitress would recognize us, but she didn't. She never did pick up on it. But it was neat. I mean, we all called home about it.
BT:  Oh, I would.
Russell Moore: I took pictures of the little placard on the table with my phone and I sent it to my wife, you know, and I said, "Check this out!" (Laughs)
BT:  How is it that you came upon these particular songs to record?
Russell: The first thing we did was try to come up with a theme for the recording, and we decided that we would record songs that influenced us as musicians, as a band, or as individuals early on when we were young, songs that shaped us to be the musicians and singers that we are now. That's why you'll hear a lot of variety on this CD. You'll hear of course the bluegrass influences, you'll hear the swing influences, the pop influences. The majority of the record, you'll hear the country influences and artists that influenced us.
BT:  Even within the country artists, you go from Travis Tritt to Gene Watson, and Glen Campbell to George [Jones] and Tammy [Wynette]. So even within the country, it's really diverse and that's exciting.
Steve: But it works, you know? I think people are diverse in what they listen to; people in general who listen to music don't listen to just one type of music. So we give 'em a little bit of everything on here to listen to, different genres to entertain them.
BT: When you were choosing the songs, did you keep the original arrangement and version in mind, or did you just say, "We're going to start over and do this our way"?
Steve:  We didn't try to change a whole lot. We had to change it some to get to our sound. We did have some percussion on some of it, but we don't carry drums on our live performances and we want to be able to recreate these songs on stage. So we tried to keep 'em as original as we could, but put a bluegrass sound to them.
BT:  What's the vibe been? How have people responded to the release so far?
Steve:  We've already gotten so many emails and text messages from people all over the country who went and bought it, so it's really a good thing.
Russell:  Our fans are used to us taking chances and going out on a limb with our music.
Steve: Yes, have a variety.
And we've always used that word, since the band started. We always want to do a variety. You get an audience of mixed people, you want to do something — you know, if you have some older folks, we try to do some traditional stuff like Golden Ring. If you have some younger folks, something more contemporary like Modern Day Bonnie and Clyde. We try to do that in all of our shows, we've always done that. What's great is that lent itself to this recording.
BT:  You have Sonya Isaacs and Pam Tillis on the record. How is it that you chose those particular women to work with?
Steve:  They just felt sorry for us. (Laughs)
Russell:  They were the right fit, without a doubt. Sonya and Pam are both incredibly talented ladies. Their careers speak for themselves. We were very honored to have them agree to be a part of this recording.
Sonya's just…her voice is angelic, you know, it really is. We started thinking about the song Golden Ring, and who would be a good fit. She was the first person that came to mind to do Tammy Wynette's part, and it couldn't have been any better.
Then Pam just knocked it out of the park on our remake of John and Mary. To re-record a song that our fans already know from our original back in the mid-90s, and revamp it and do something different with it, it's got to come off pretty strongly for people to accept it and to accept the change. And I think that's exactly what she did with it. Her interpretation and flair were spot on, and her harmony parts were great. If you're going to remake John and Mary I don't think it could have been done any better.
BT:  Ultimately then, what are you hoping that folks who come to Cracker Barrel and decide to pick up the album will take away from the project?
Steve:  Well, first and foremost, we hope they'll become Russell Moore and IIIrd Tyme Out fans, and come to our live performances. Hopefully, they'll spread the word, tell their friends, "Hey, I picked up this recording, you know, in Cracker Barrel, and listen to it, go check it out. Go pick your copy up." That's what we hope for.
Russell:  And hopefully, our association with such a great brand, with Cracker Barrel Old Country Stores, will let our people get to know Cracker Barrel a little better, maybe some of them who don't frequent Cracker Barrel now. And the Cracker Barrel patrons who are not familiar with us, maybe we can trade off some there, you know. It's definitely a win/win for all of us to be associated with such a great company and we're proud to be here.
Timeless Hits from the Past… Bluegrassed is available now at Cracker Barrel Old Country Store outlets around the country, at crackerbarrel.com, amazon.com and iTunes.