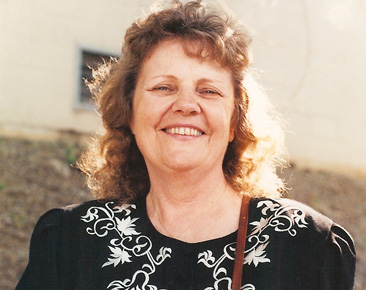 On this day ……
June 9 is the birthday of Gloria Belle.
Probably best known for being Jimmy Martin's so-called "girl singer" in the late 1960s and into the 1970s, she played mandolin, guitar and bass at different times as a Sunny Mountain Boy.
Born in 1939, an only child, Gloria Bernadette Flickinger was raised in Hanover, Pennsylvania.
At the age of three she began singing on a church radio program on WFMD in Frederick, Maryland. As a teenager she learned how to play guitar, piano (she was taught by her mother) and then mandolin (her first mandolin was a gift on her 16th birthday) and banjo.
Her first major influence was the Bailey Brothers whom she heard on WWVA, the Wheeling Jamboree. Listening to the brothers made her determined to follow a career in music.
Initially she made guest appearances on shows and playing in competitions.
Around 1958 she began working with local Hanover-based band Gary Epley and the Cheerful Valley Gang.
The following year Gloria Belle made her first appearances on WBIR Television in Knoxville – her first professional job – leading to her becoming a regular participant of the Cas Walker Show where Danny Bailey replaced her mother as her singing partner. Walker dubbed her Gloria Belle for the sake of simplicity.
She also performed in Maggie Valley, North Carolina, at Ghost Town with such artists as Raymond Fairchild, the so-called "King of the Smoky Mountain Banjo Pickers".
Sometimes she would play twin mandolins and sing with Red Rector.
She stayed with the Cas Walker Show for until the summer of 1965.
In the meantime, Gloria Belle, aided by Bill Keith (banjo) and Tater Tate (fiddle), recorded two sides for the Redwing label.
In April 1966 she became a member of Betty Amos's All-Girl Band, based in Roanoke, Virginia, and in May 1967 she was invited to lead an all-male band, replacing their original leader who was killed in a car accident.  Unfortunately, the band broke up after a short time.
That summer she became the first female to have a release by Rebel Records Gloria Belle sings and Plays Bluegrass in the Country (Rebel R-1479); twelve songs that feature her playing banjo, lead guitar and mandolin as well as her singing the lead part on all tracks. Billy Edwards (banjo), John Palmer (bass) and Tater Tate (fiddle) played on part of the album.
In 1969 Gloria Belle moved to Nashville, Tennessee, where she began playing with Jimmy Martin and his Sunny Mountain Boys, for whom she was already working part time.  During the ensuing period she features singing high baritone on the recordings of Milwaukee Here I Come, Chattanooga Dog, (I've Got My) Future on Ice and Singing All Day and Dinner on the Ground. She worked for Martin until spring 1972, playing snare drum or acoustic bass as necessary.
She is featured singing on the Nitty Gritty Dirt Band's million-selling Will the Circle Be Unbroken (1971) first album on which Martin's band was a guest.
Then in 1972 she worked as the electric bass player in an all-female country dance band the Nashville Kitty Kats, with whom she had a 15-minute bluegrass spot during which she played banjo and sang some of the standards on the day.
The following year she went to work the festival season with Charlie Monroe, who was sometimes actually backed by the Sunny Mountain Boys.
In 1975 Gloria Belle re-joined Martin's band – this time playing electric bass. They made a ten-day tour of Japan that year.
While still a member of the Sunny Mountain Boys she recorded her second album; Good Hearted Woman (Southern Belle SB-51978, 1978), helped in part by members of the Sunny Mountain Boys and Tom Gray, Mike Auldridge and Randy Graham.
In January 1978 she sang the high baritone on the recording of White Dove, Uncle Pen and a fresh arrangement of Widow Maker each of which appeared on Gusto releases.
During the first four years of the 1980s she working variously on the Cas Walker Show with Danny Bailey, with the Bailey Brothers during the 1982 World Fair in Knoxville; with Joy King during Women's Week at the Fair; with Bonnie Lou and Buster at Pigeon Forge; and in 1984, having settled in Florida, she formed an all-girl group Foxfire.
In 1986 Gloria Belle recorded her third album The Love of the Mountains (Webco WLPS-0122) recorded with the help of the much-praised Johnson Mountain Boys.
In 1990 she formed her own band, Gloria Belle and Tennessee Sunshine, with her husband of about 12 months, guitar player Mike Long.
During the following decade or so she released four albums with the group; Living the Right Life Now (Southern Belle SB-110892); Dixieland For Me (Atteiram API-CD-1689); He Leadeth Me (Southern Belle SB-6900); and Let My Life Be A Light (Southern Belle SB-6901). 
Her association with Jimmy Martin continued with her appearance on the Reunion of Jimmy Martin and the Sunny Mountain Boys videos that were made in 1987 at Frontier Ranch in Columbus, Ohio, and in 1999 at the Bill Monroe Memorial Park in Bean Blossom, Indiana.
In the year 2000 Gloria Belle participated in the recording of Follow Me Back to the Fold, a Rebel project (REB-CD 1764), the album being named winner of the 2001 IBMA (International Bluegrass Music Association) Recorded Event of the Year.
In 1999 in recognition of her lifetime of dedication and contributions to bluegrass music, Gloria Belle was presented with the IBMA Distinguished Achievement Award.
A lengthy Gloria Belle biography is included in the book Pretty Good for a Girl: Women in Bluegrass by Murphy Hicks Henry (University of Illinois Press).