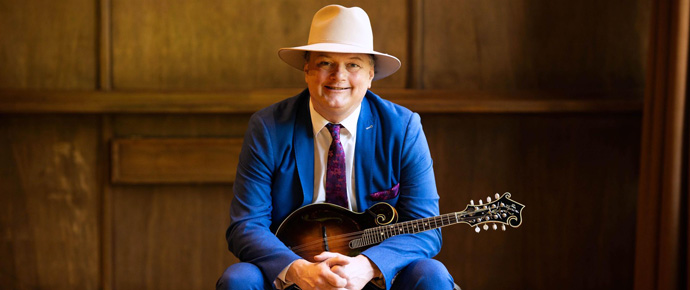 "I'm not lucky… I'm blessed," Nick Chandler stated firmly regarding his personal battle with COVID-19 this fall.
The western North Carolina mandolinist and singer was stricken with the deadly virus in October, and spent three weeks in the hospital.
"Right after IBMA, my wife and I started not feeling good. She was better after four or five days. I was struggling so I got the infusion, but it was too late. I just kept getting worse."
By this time, the fifty-year-old founder of Nick Chandler & Delivered was having difficulty breathing. On October 10, he went to the Emergency Room and found himself in the Intensive Care Unit.
"My blood oxygen was 50. I had a lot of blood clots in both lungs." A normal reading would be between 75-100.
Chandler spent a week in ICU, two weeks in a step-down unit, and then briefly in a regular room before his release on Halloween night.
"For 3-4 days, it was touch and go for me. I was isolated. I did not get to see family. All I saw was three different rooms. My only contact was nurses, but I'm grateful. I want to thank the nurses and everyone at Mission Health in Asheville, NC. They were very professional."
Chandler's wife, Trudy, echoed his sentiments. "The nurses were really kind and helpful. It was a really scary time, and every day they made time to speak with me about what was going on. It was really hard as a nurse to feel so helpless and out of the loop. To not get to see him was very hard."
The bluegrass band leader had just lost his mother two weeks before to the virus.
"She wasn't vaccinated. I was seriously sick, but I think my one surviving factor was that I was vaccinated. I never had to be intubated. I only had to use a bi-pap machine."
Chandler has no idea where he acquired the virus.
"We were very careful. We wore masks. I carried a bottle of hand sanitizer in my pocket. I would change out microphones (at shows) so it was just ours. We were all vaccinated. We were extremely vigilant."
Even though Chandler is home, he remains on oxygen 24 hours a day and receives physical therapy.
"The blood clots put me on a longer road to recovery. I lost 50 pounds in three weeks. I'm making progress and getting my endurance back. I use an incentive spirometer (breathing machine), an exercise tool for your lungs. I'm down from 60 liters of oxygen to 4.
It's been a real humbling experience. I haven't driven in two months. I'm used to driving a lot. My job is delivering merchandise to grocery stores. I can't even walk my dog."
Chandler had to cancel shows, lots of shows. He is most disappointed for missing Lorraine Jordan's upcoming Christmas in the Smokies in Sevierville, TN. He is grateful to the promoters for booking him back in 2022.
"Lorraine understood and booked me back for next year. I just can't hold out to sing and I didn't want to walk out with an oxygen tank."
Chandler is thankful for all the support that he has been given.
"I got hundreds of messages (on social media). That says a lot about the bluegrass community. I could not believe how many people reached out. I never expected it.
Bobby Powell (formerly with Carolina Blue) was the first person to come see when I got home. Bobby Hicks called and checked on me. I got lots of calls and texts from professionals in the music industry. We signed with Pinecastle Records. They've called to check on me."
Chandler has a long association with music.
"My whole life's been music. My brother played with the Primitive Quartet. I've been playing since I was nine. As a teenager, I was a utility guy on the road and playing professionally. My son is a high school band teacher."
The music maker is unsure of how soon he will fully recover. He sees a pulmonologist the week after Thanksgiving.
"I've just started playing mandolin again. My goal is to be able to play the main stage at SPBGMA on Friday, and that should be my first show back. I want to thank everyone that reached out and said prayers. There are lots of good people in our genre of music."
For more information on his music, visit Chandler's web site or his Facebook page.