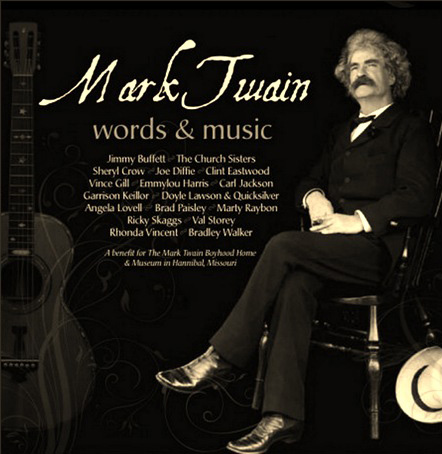 Samuel Langhorne Clemens (November 30, 1835 – April 21, 1910), was an American author and humorist better known by his pen-name Mark Twain.
He is best known for his novels The Adventures of Tom Sawyer (published in 1876) and its sequel Adventures of Huckleberry Finn (1885), and his association with the Mississippi river – the setting for those two books. Clemens was also a master riverboat pilot on the river; his memories from that time were captured in Life on the Mississippi (published in 1883). In Life on the Mississippi he states that "Mark Twain" was the call made when the boat was in safe water – two fathoms. Elsewhere, there is a suggestion that it was a phrase Clemens used when asking for the price of his drink(s) to be added to his tab.
During his lifetime though, he was best noted for his satirical travel writings such as the letters later compiled as The Innocents Abroad (or The New Pilgrims' Progress), relating his time visiting the old world on a cruise around the Mediterranean lands. It was the best-selling of Twain's works during his lifetime and one of the best-selling travel books of all time. In Roughing It Twain writes a semi-autobiographical, lampooning account of his journey to Nevada and subsequent life in the American West.
Later he penned A Connecticut Yankee in King Arthur's Court, a piece of historical fiction in which the main character, Hank Morgan, was transported back in time and place, the uneven Pudd'nhead Wilson, initially serialized in The Century Magazine (1893-4), and Personal Recollections of Joan of Arc.
Clemens achieved great success as a public speaker also with his wit and satire earning him praise from critics and peers alike, and the patronage of many in high society in the USA as well as in Europe.
A lover of science and technology, Clemens had a fixation about Halley's Comet, the cosmic phenomenon that was visible from earth every 75 years. He was born during a visit and died of a heart attack on the day following the comet's subsequent return.
Ernest Hemingway wrote of what has been called "the Great American Novel:" "All modern American literature comes from one book by Mark Twain called, Adventures of Huckleberry Finn."
Mark Twain – Words & Music (Mailboat Records Inc.) is a two CD set lovingly put together by Cindy Lovell, the Executive Director of The Mark Twain Boyhood Home & Museum in Hannibal, the Missouri port town on the Mississippi River where from the age of four to the age of 17 Twain lived, and producer and singer/songwriter Carl Jackson.
Grammy award-winner, Jackson says of the set's origins …
"It's quite a long story of how the CD came about, but the original idea was Cindy's, after she heard my tribute to the Louvin Brothers I produced back in 2003. We had been childhood pen pals, but she contacted me after over 30 years of not hearing from each other and asked if I might be willing to take on a similar project honoring Mark Twain, since 2010 would be the 100th year anniversary of his passing. The result is the double CD project with 14 sections of narration and 13 songs telling the life story of Samuel Clemens."
Lovell, who has been a fan of Mark Twain's since she was 10 years old, adds …
"The CD was produced as a tribute to Mark Twain as a benefit for the boyhood home & museum here in Hannibal. I came up with the idea several years ago, and although I hadn't seen or spoken with Carl since we were kids, I tracked him down and pitched the idea. He agreed, and here we are!"
As Jackson says, there are 13 songs in this collection, each tells a part of the life story of Mark Twain and are introduced by some narrative relating to the episode in Twain's life.
The storyline was written by Cindy Lovell, Garrison Keillor is the narrator, the voice of Twain is provided by actor Clint Eastwood, that of Huckleberry Finn by a big Mark Twain fan singer/songwriter Jimmy Buffett, and Angela Lovell is Susy Clemens, one of Sam's three daughters.
Some of the songs were written specifically for the album whereas others were already well known.
Most notable among the former is the hard-driving bluegrass performances of Run Mississippi by Rhonda Vincent and Comet Ride (Ricky Skaggs); and Safe Water (Carl Jackson), Huck Finn Blues (Brad Paisley) and Ink (Joe Diffie) – what really flows through Samuel Clemens's veins. Safe Water and Huck Finn Blues feature steel guitar and Ink is one of about half a dozen with percussion and piano. All sit comfortably in the Americana/acoustic Country music pigeon-hole and, as with everything Jackson does, Mark Twain – Words & Music is very tastefully done.
The only period-piece is Stephen Foster's Beautiful Dreamer sung a cappella by Sheryl Crow. Other complimentary songs from 'outside' sources include Mary Chapin Carpenter's When Halley Came To Jackson (sung by Emmylou Harris), Better Time's A' Comin' (Doyle Lawson & Quicksilver),  the Eva Cassidy tear-jerker I Know You By Heart (Vince Gill) and Tish Hinojosa's Love Is On Our Side sung by Val Storey.
Other artists who participated on Mark Twain Words and Music include The Church Sisters, Marty Raybon, Bradley Walker, Andy Leftwich [fiddle], Adam Steffey [mandolin], Rob Ickes [Dobro], Kevin Grantt [bass], Mike Johnson [steel guitar], Tony Creasman [percussion] and Catherine Marx [piano].
Although the release missed the centennial of Mark Twain's passing, to quote Jimmy Buffett, "Time has not eroded the spirit, force, character and humor of Huck and Mr. Twain's words."  Twain, himself, could easily be speaking of this excellent tribute to his work when he said, "Singing is one of the most entrancing and bewitching and moving and eloquent of all the vehicles invented by man for the conveying of feeling".
Mark Twain Words and Music was also produced as a benefit for the Mark Twain Boyhood Home & Museum and can be purchased at the Museum and other outlets.
"This report of my death was an exaggeration." Quite so!
In this video Mark McDonald of Illinois Stories speaks to by Cindy Lovell, Carl Jackson and Val Storey. Jackson and Storey sing some of the songs included in Mark Twain Words and Music.