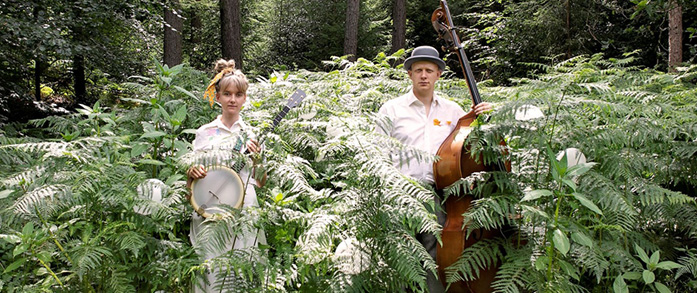 The somewhat unlikely handle aside, Stereo Naked excel at scaled-down bluegrass from a European perspective. The band is based in Cologne, Germany, but one of the two core members, Pierce Black (vocals and upright bass), is an emigre from New Zealand, which makes their international mix all the more striking. 
"Julia Zech (vocals and banjo) and I moved here a number of years ago," Black explains. "I was born in Wellington, New Zealand, and Julia grew up in a village near Mainz in Germany. I still feel as though I'm a Kiwi through and through, so I guess defining where home is isn't 100% easy."
Pierce says that the two met in the city of Cologne, Germany at the Cologne Bluegrass Bash, a monthly city jam. "Julia was writing some originals and I was too, so we started to meet up and play together," he explains.
As one might expect, the name itself demands some explanation. "When you play with just banjo and bass and vocals, it leaves a ton of space," Black suggests. "Our minimalistic instrumentation feels 'Naked,' and having just the two of us on stage is where the 'Stereo' comes from."
That said, Black insists that it's somewhat difficult to define their sound. "It's hard to say really," he muses. "We like to mix it up a lot. We have elements of pop and indie mixed with old-time and more traditional genres."
Not surprisingly then, their inspiration is also widespread and diverse. "We both have a wide variety of influences," Black continues. "When it goes in a direction, I'd say Hawktail, Punch Brothers, and other progressive bluegrass bands come to mind… Julia's influences at the moment are songwriters like Madison Cunningham, Taylor Ashton, and Mipso."
The duo has toured extensively, mostly throughout Europe, including concerts in Germany, France, Holland, Belgium, Austria, Ireland, the UK, Poland, and Lithuania, to name but a few of the countries they've performed in. They've also appeared at several major festivals of note — among them, the La Roche Bluegrass Festival in France, Bühler Bluegrass Festival of Germany, and the Rotterdam Bluegrass Festival in The Netherlands.  
"We have had the honor of sharing the stage with Mike Marshall while playing some bluegrass covers," Black maintains. "He lives partly in Wuppertal, round the corner from Cologne. Having him around has inspired many musicians over here."
To date, the pair have recorded an EP and two albums — 2018's Roadkill Highway and Unseen Course, released in 2021. "A further album is in the pipeline at the moment," Black said. "Our albums feature only originals. We do have a handful of covers that we play when we perform live."
Happily then, their music is catching on. "We have a small and loyal following here in Europe," Black added. "I have the feeling that the jam culture that bluegrass offers is exciting to many musicians over here. The scene is small, but the community is very supportive and more open to any level of playing than in other genres. Hence it has been rapidly growing. It is nice to see how in Cologne it attracts people from all sorts of backgrounds and brings together several different generations."