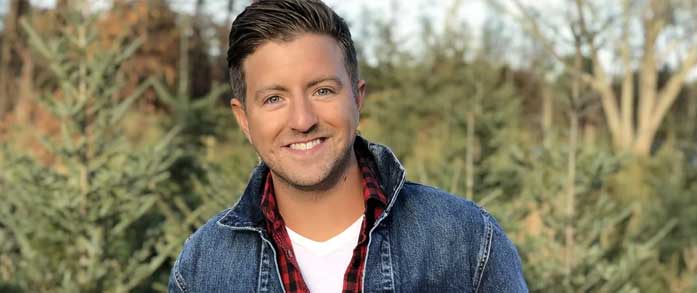 How do we know that bluegrass music has matured into a fully-formed, commercial musical genre? When artists who have achieved success in the wider pop music world, and have the option to go in any direction they prefer, decide to record bluegrass by choice.
Such is the news this week that Billy Gilman, recent runner-up on The Voice, 10 million record seller, and two-time Grammy nominee, has just signed with Pinecastle Records to release his newly-completed bluegrass album.
Billy hit the music scene young, scoring his first hit, One Voice, on the country charts when he was 11 years old. Now a seasoned vet at 34, he says he wants to return to the music that forms the background for his childhood memories.
"I am more excited about this than anything I have ever done in music. I grew up around bluegrass music since my grandparents would play it all the time, and it just feels so natural to me."
It was his grandmother that got him started with a voice teacher at nine years old, who not only taught Billy the basics of singing technique, but also got her young charge gigs singing near his home in Rhode Island. It was at one of these shows where he chanced to meet Ray Benson of Asleep At The Wheel, who arranged for the prodigy to cut his first professional demo in Austin, TX.
That led to a contract with SONY/Epic, and the One Voice phenomenon, its seven week number one run, and the album going double platinum. Two more projects followed inside of a year, cementing Billy Gilmer as a recording artist of stature.
From there, he recorded with superstars like Charlotte Church, Michael Jackson, Kenny Rogers, and many others. After achieving so much success in the music industry, and seeing things most artists only dream about, Billy responded to a request from The Voice asking that he consider auditioning. After the the tremendous attention it brought, and a resurgence of his popularity as an adult, he chooses bluegrass.
Ethan Burkhardt, president of Pinecastle Records, tells us that Gilman's signing is not just a coup for the label, it's a victory for the entire bluegrass world.
"We are so excited to have an incredible artist like Billy on our label. Billy has not released an album in almost 10 years, and coming off The Voice, he has had options to release an album in almost any genre that he wants. But it is a great win for bluegrass that this is where his heart genuinely is, and where he wants to release an album."
And Gilman says that this isn't some kind of gimmick to get attention.
"This record isn't just a one-time thing. This is where my heart is right now. I plan to get to know everyone I can in the industry, to put the work in, and make many more bluegrass albums in the years to come."
Burkhardt understands the sort of apprehension many bluegrass fans will feel at this news, but encourages everyone to wait and see.
"I think that the bluegrass world is going to be pleasantly surprised when it hears what Billy has done on this album. It's some really great traditional bluegrass music. And he is definitely going to help promote and bring more attention to this industry."
A debut single, Roller Coaster, is set to hit on March 15.