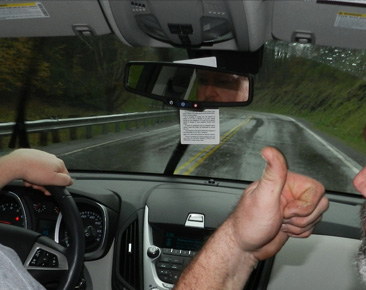 The primary purpose of pursuing our musical interest is the music itself, and I enjoy simply sitting in the living room practicing with our group, with no one watching. The process of writing a song, arranging it and bringing it to life is very satisfying, but I'm human and I can't say I don't enjoy the spotlight and applause of an audience (for whatever reason, I've never had a courtroom burst into applause after one of my closing arguments like Jim Carrey in Liar, Liar).
In addition to the performance experience, it's fun to see new places and to make new friends, so we're pursuing every opportunity to travel and expand our fanbase. Last month, we paid a visit to the Orange Blossom Trail Music Hall in Lost Creek, West Virginia. The Orange Blossom features a house band that specializes in traditional country music, lead by fiddler Johnny Cochran (not lawyer Johnny Cochran), a native West Virginian who made his way to Nashville to work for George Jones, Johnny Paycheck, and Lynn Anderson before returning to West Virginia.
At the end of the evening, Johnny joined us on stage to fiddle a few. In addition to the regular performances by Cochran and The Trailblazers, the Orange Blossom regularly presents guest artists, which frequently include bluegrass groups. Upcoming appearances include Roni Stoneman and Monroeville.
This show marked the first appearance of the newest member of our band, Steve Acord, on mandolin. Steve performed with us for several years in the mid-to late 90's before work commitments forced him to leave. He's one of the most amazing musicians I know and we are looking forward to getting reacquainted musically. Despite only three practice sessions and this being his first show with us, Steve's solos were repeatedly met with spontaneous bursts of applause from the audience.
One of the highlights of the evening was visiting with a member of the West Virginia Broadcasting Hall of Fame, Lew Dobbins. Although his career has been spent in broadcasting primarily classic country music, he is now broadcasting bluegrass on WOTR 96.3 FM/WHAW 980 AM in Weston, West Virginia. Unlike most radio stations which offer a limited amount of bluegrass on a weekly basis, WOTR programs bluegrass from 7 a.m. to 6 p.m. every day! Lew served as our MC and it was an honor to be introduced and interviewed by him.
Another highlight of the evening was being joined onstage by our newlywed daughter, Amy (I introduced Ms. Taylor as Amy Gabehart before catching myself — hard to get used to). She's graduating this spring from West Virginia University, so it was a short drive south from Morgantown to join us. While she's been drawn toward country music over the past ten years and plans to make Nashville her home, she performed songs from Alison Kraus, Sierra Hull, and Sonya Isaacs with us (she's been on me to write her some original material but I haven't been able to channel my 20-something female side just yet).
After spending the night at the Holiday Inn Express, where you awaken with amazing new abilities and a boosted IQ, we traveled on to Marlinton, West Virginia to perform at the Pocahontas County Opera House. Unlike many of the "Opry" Houses, and other converted movie theaters, this was an actual opera house, and was built in 1910 with a large stage to present dramatic productions, with a wrap-around balcony, hardwood floor and ornate metal ceiling. It is on the National Register of Historic Places, and rightly so.
We performed to a large and appreciative audience who had the good taste to laugh at our jokes, and closed the show after boisterous shouts for an encore (as opposed to the obligatory kind urged by an MC that has become commonplace). One of the more interesting things I've had happen was during an encounter at our product table. I had forgotten to announce during the show that I'm running for Prosecuting Attorney in Lincoln County, West Virginia, where I've served as as a part-time Assistant Prosecutor for the past 13 years, but as a conversation starter I had put out a few bumper stickers and buttons, knowing some folks collect such things.
Apparently one of our patrons noticed these items and while things were a little chaotic, he handed me a check which I assumed was for a product purchase. Imagine my surprise when I opened the folded check to find a campaign contribution! While any contribution is appreciated, it was surprising to receive one from someone who can't vote for me, 200 miles away from my home county. He also had a sense of humor, writing on the the check memo line: "Put a banjo picker in the courthouse."
We also had the pleasure of visiting with one of our longest tenured bluegrass broadcasters in West Virginia, Norris Long, who has been on the air for 30 years.  An upright bass player who has played bluegrass and old-time music since the 1970's, Norris has shows on multiple stations under the Allegheny Mountain Radio umbrella throughout eastern West Virginia and western Virginia.
I did order 1000 CDs in bulk with some of our royalty-free original recordings to give out as campaign promotional items, but maybe I need to make our music a bigger part of my campaign platform — "If elected Prosecuting Attorney, I will fight for stiffer sentences, forcing all convicts to listen to heavy metal, or modern country music 24 hours a day," or "All persons granted probation shall as a part of their rehabilition undergo a bluegrass orientation and music appreciation program."
A great weekend and more to come. We are truly blessed and anticipating great things ahead.