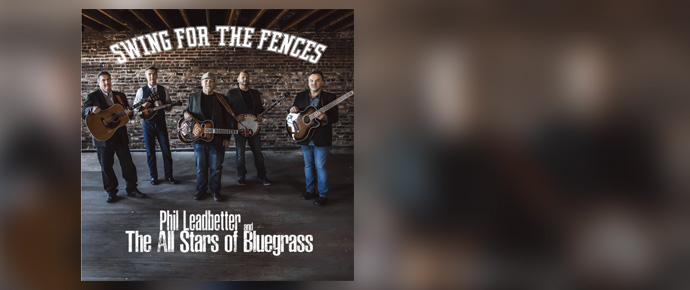 Pandemic or not, everyone is busy this time of year, so I'll get straight to the point:
Swing For The Fences, from Phil Leadbetter and the All Stars of Bluegrass, is my favorite bluegrass project of 2020.
There were many outstanding projects, of course, but to my ear, none reached quite as high as this one on the Pinecastle label.
It's not just the expert picking – what else would you expect from all-stars such as Leadbetter, Jason Burleson and Alan Bibey, with guest fiddling from Stuart Duncan and Tim Crouch – the amazing vocals from Steve Gulley, Robert Hale and Bibey, or the selection of 10 stellar songs.
Sometimes, a project is just perfect for the times. This collection, in a time of hardship and loss, hope and redemption, is just the right project for 2020. The 10 songs hit all of the emotional touchstones. Great music does that.
That said, this powerful CD is bittersweet, and hard for me to listen to, knowing the backstory. Shortly after the band was in the studio, and before the CD was released, bass player and singer Steve Gulley died of pancreatic cancer. It still doesn't seem real.
The pain is almost palpable on Yesterday's Gone. The song has a fairy tale beginning – once upon a time there was tomorrow – that gets dashed on the rocks of reality – tomorrow became yesterday, and now it's gone. The duet also has the distinction of being the last of many songs that Steve and his wife Debbie Gulley sang together in the studio. And if that's not enough, Leadbetter makes his resonator guitar cry, as if in tribute to his best buddy.
Other songs seemed tailor-made for this awful year, including The Hurtin' When You Go and Times Are Tough on the downside, and the optimistic I'm Gonna Make It After All, No End To This Road, which implores us to make the best of things while we can, and the energetic title cut, which features some of Uncle Phil's most-inventive playing.
For good measure, there's a high speed Gospel number, Ready and Waiting, with a message to not take anything for granted, made especially poignant by Steve's untimely passing. And a glorious instrumental, Avery Stokes, that puts each of these talented pickers front and center. Steve was a devout Christian, so there's comfort in knowing that he was ready when his time came.
There's something here for everyone, even for those not fortunate enough to know and love Steve Gulley, and to have shared his orbit for a while. The project is a powerful reminder that music heals, even if sometimes it makes you cry.
Leadbetter and the All Stars are already planning their next record, with Gena Britt on bass. They'll have their hands full, not just because Steve is gone but because this project is so, so strong.
But All Stars are stars for a reason. They dig in. They deliver under pressure. I wouldn't bet against them when the "record" button lights up.