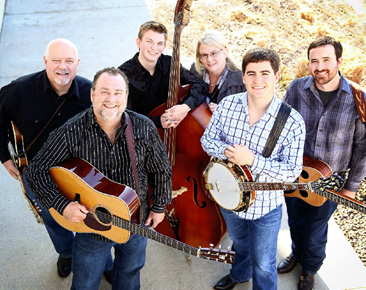 Bull Harman & Bull's Eye have announced some new members.
The St. Louis-based band has brought Alex Rifle in to play banjo, Allan Sterling on reso-guitar, and Harman's son Wyatt has taken over his mom, Tammy's, bass role. Bull remains on guitar and vocals, as does Hal Cottrell on mandolin, and Tammy still hops up on stage to sing a few numbers in their live show.
The best news from the Harmans is that Bull has fully recovered from the back surgery that put him down in 2013. Tammy says he is feeling well, and back to doing things he shouldn't, as usual.
They are both delighted with the new band sound, which Tammy says is a bit more hard-edged and driving, owing to the age curve bending downward with all the new members.
Bull and Tammy also host an instructional weekend for guitarists each year, St Louis Flatpick, which will celebrate its 10th anniversary in 2014. Held March 21-23 this year, they will offer classes with Wyatt Rice and Clay Hess, along with mini workshops for mandolin, bass and banjo.
Tammy also tells us that they have partnered with Bourgois guitars for a special raffle.
"In honor of the 10th Anniversary, we are raffling off a brand new custom made Bourgois Aged Tone Series Guitar with Madagascar rosewood, valued at $7500. The headstock inlay is of the St. Louis Flatpick logo.

Winners need not be present to win."
Raffle tickets can be purchased online, where full details about St Louis Flatpick can also be found.
You can keep up with Bull's Eye on their web site, or on Facebook.