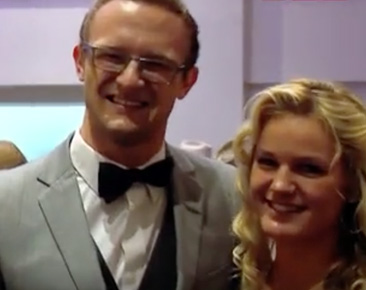 Bluegrass, family, and dating take center stage on tonight's episode of The Willis Family on TLC, available on most cable and satellite television networks.
The show follows the musical and sibling comings and goings of The Willis Clan, a family of unusually talented and attractive people, 12 children and their parents, who tour the world with their mix of bluegrass, country, and Celtic music, plus competitive ballroom and Irish dancing.
Tonight's episode involves a subplot where Cory Piatt, mandolin/vocalist with Mountain Faith, takes one of the Willis daughters, Jeanette, as his date to the IBMA Awards Show last fall in Raleigh, NC. As is common with reality TV, airing typically involves a substantial time lag behind the filming.
I recall the hoopla at IBMA last year when a professional TV crew followed Mountain Faith when they entered the theater, and it wasn't immediately clear whether they were from America's Got Talent, where the band had been appearing through the summer. The handsome young couple came down to walk the red carpet, but it had been cancelled due to some miscommunication relating to that day's torrential rains in Raleigh, so we didn't get to interview them there.
This isn't the first time that dating and bluegrass was a topic on the show. Last season, Jere, the eldest Willis son, became engaged to Mary Meyer, mandolinist and singer with The MeyerBand, another Nashville-based bluegrass group of talented and gorgeous young folks. Unfortunately, that relationship soured, as was revealed on a recent episode.
Tune in at 10:00 p.m. (EDT) on TLC and see how Cory, among bluegrass music's most eligible bachelors, does with Jeanette.