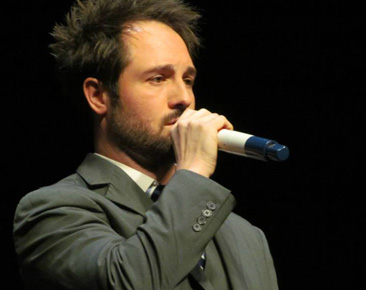 Christian Davis, the bottomless bass singer for Dailey & Vincent this past five years, has announced that he is leaving the band to focus on his own solo music ministry.
A new CD is planned for the near future, and personal appearances have been booked going forward, including at the upcoming National Quartet Convention in Pigeon Forge, TN.
Davis shared a heartfelt message this morning as he announced his plans.
"For the past five and a half years, I've had the honor to use the gift God gave to sing with the most wonderful people, Dailey and Vincent. I am forever grateful to Jamie and Darrin for five and a half years of laughs, fun, brotherhood and great music. Jamie and Darrin have pushed me to be a better musician, singer and man and I am eternally grateful for their investment in me. The platform given to me by Jamie and Darrin is one I could never repay them for. They are perfect examples of how a God-given dream, hard work and determination can change the world through music. Traveling with Jamie, Darrin, Jeff, Bob, BJ, Jessie and Seth has been a great privilege. To say I will miss them would be an understatement.

As I look forward to this next season, I ask that you join me in praying for Dailey and Vincent. Go support them by seeing them in concert, buying a CD at Cracker Barrel and enjoy the best in bluegrass music!

I look forward to what the Lord has in store for my next season as I prepare to go out as a soloist. We will tour select dates featuring a full band, building on the platform of Dailey and Vincent. Join us in prayer as we charge into new territory and towards a new task. I am focused where God is leading willing to follow wherever He takes me."
Dailey & Vincent are bringing in Aaron McCune to sing bass with the group, starting with their big Land Fest this weekend in Denton, NC.
Jamie Dailey shared this statement about the change…
"As most all of you know, bands members come and go from time to time. Though Darrin and I always try to embrace change it doesn't necessarily mean it's always easy for us. After five and a half years our friend Christian Davis is departing our band. Christian will be pursuing a solo career and with his voice and talent we expect big things for him. He has been a blessing to us and we have enjoyed singing every note with him. You can check out www.christiandavisonline.com for all of his career information. We encourage you to support he and his family and we know you will.

Aaron hails from Clay West Virginia but he and his wife now make their home in Southern Illinois. Aaron has filled in for Richard Sterban of the Oak Ridge Boys, he has sang for Wynonna and Willie Nelson. He sang for Gold City Quartet for five years and became a bass singing star within the Gospel community. Aaron grew up playing bluegrass with his family and friends and plays the guitar with a thumb pick. Lester Flatt is one of Aaron's heroes. "
Best of luck to both Christian and Dailey & Vincent going forward.