The whole bluegrass world is falling in love with Sleepy Man Banjo Boys, the brother trio of hot young pickers from Lebanon Township, New Jersey. We first mentioned them on Bluegrass Today last November, and it turns out that one of their new videos has recently gone viral, netting them over 1,500,000 plays on YouTube.
The video features 8 year old Jonny Mizzone tearing up the Earl Scruggs classic, Flint Hill Special, with his two older brothers Robbie (12) on fiddle and Tommy (13) on guitar. All three play quite well, but Jonny has to be seen to be believed.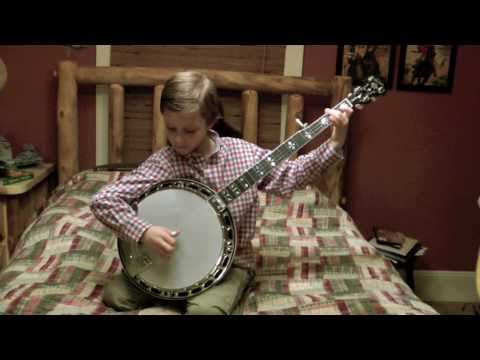 Well, the video came to the attention of producers from The Late Show with David Letterman, and the boys will be treking to New York City on Tuesday (6/28) to make their nationwide, network television premier. In fact, proud papa Tom Mizzone told us that they had received offers to appear on several late night shows, but chose Letterman's since they see it as banjo-friendly. He and the boys recall having seen Earl Scruggs, Steve Martin and other banjo pickers on the show.
Tom says the boys are taking the attention in stride, and enjoying their brush with fame.
"The boys are hoping to spark a bluegrass movement with a younger audience. They are getting a small following with an audience not typically exposed to bluegrass music. It's been really cool."
The Late Show airs at 11:35 p.m. (ET/PT) on CBS. Typically, musical performers appear during the show's final segment, at roughly 12:25 a.m.
Tell a friend!
John had served as primary author and editor for The Bluegrass Blog from its launch in 2006 until being folded into Bluegrass Today in September of 2011. He continues in that capacity here, managing a strong team of columnists and correspondents.
Latest posts by John Lawless (see all)
Category: Bluegrass television news, Bluegrass Videos
Subscribe
If you enjoyed this article, subscribe to receive more just like it.