Just in time for Halloween, Pam Tillis and Kim Fox put together this fun video, The Monster and the Banjo, complete with an army of zombies and a cadre of young pickers. Both are celebrated Nashville singers and songwriters; Tillis, daughter of country superstar Mel, with a country career of her own, and Fox part of the singing Fox Family, and 3 Fox Drive.
Pam said that the song comes from Henry Hipkens, one she found some time ago and has been holding back for just such an occasion. She gave full credit to Kim for finding the young pickers and assembling them into a group. Fox chose four pairs of bluegrass siblings: Jacob and Isaac Moore, Frannie and Cara DiGiovanni, Grayson and Ivy Phillips, and Melody and Kadence Williamson.
They all got together earlier this month just outside of Nashville, in the wilds of middle Tennessee, where the zombies roam.
Tillis said she recruited the monsters to go along with Fox's young band.
"It's all my friends and family. My mother-in-law played Granny although she's way prettier than she comes off here.

I was surprised at how easy it was to get zombies! Watch for cameos from my tour manager and publicist. I'm proud of my zombies but especially proud of all the incredible young musicians who are all between 10-14 years old.

Hope you enjoy and Happy Halloween!"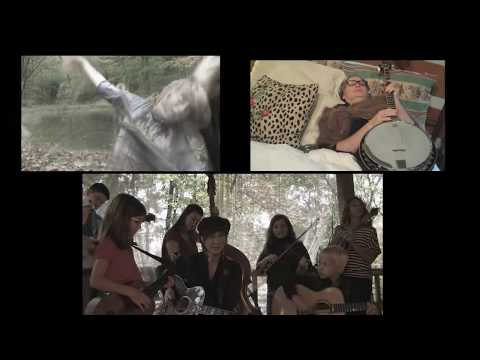 I've seen all sorts of debate of late about the most efficient method to defeat zombies. Who knew that the good ol' 5 beat all?
John had served as primary author and editor for The Bluegrass Blog from its launch in 2006 until being folded into Bluegrass Today in September of 2011. He continues in that capacity here, managing a strong team of columnists and correspondents.
Latest posts by John Lawless (see all)
Category: Bluegrass Videos
Subscribe
If you enjoyed this article, subscribe to receive more just like it.