Mayor Ryan Coonerty has declared December 4th as Bill Monroe Day in Santa Cruz, California. As part of the Bill Monroe centennial celebrations there will be two special shows in and around Santa Cruz to mark the occasion.
At the first, The Peter Rowan Band will be playing songs from their 2010 Compass Records release, Legacy, which, in itself, is a tribute to his mentor of the early 1960s. That show, a 4:00 p.m. matinee, will take place at the Digital Media Factory, and will be filmed for broadcast later.
The second show on Bill Monroe day will be at Don Quixote's International Music Hall in Felton, California, with two top pickers, Rob Ickes and Jim Hurst, playing together at 7:00 p.m.
Rob and Jim can be seen here exhibiting a display of Dobro and acoustic guitar fireworks on a Hurst tune inspired by Jerry Reed. The performance was recorded on April 9, 2011, at the Jailhouse Gallery in Morganton, North Carolina.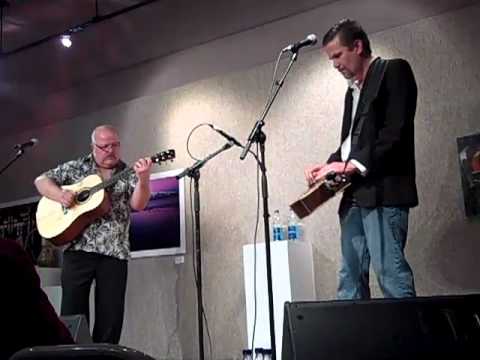 Category: Uncagetogrized
Richard F. Thompson is a long-standing free-lance writer specialising in bluegrass music topics.
A two-time Editor of British Bluegrass News, he has been seriously interested in bluegrass music since about 1970. As well as contributing to that magazine, he has, in the past 30 plus years, had articles published by Country Music World, International Country Music News, Country Music People, Bluegrass Unlimited, MoonShiner (the Japanese bluegrass music journal) and Bluegrass Europe.
He wrote the annotated series I'm On My Way Back To Old Kentucky, a daily memorial to Bill Monroe that culminated with an acknowledgement of what would have been his 100th birthday, on September 13, 2011.
Subscribe
If you enjoyed this article, subscribe to receive more just like it.